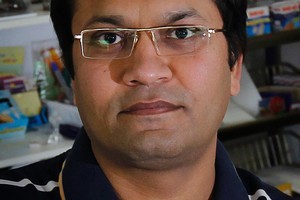 The shopkeeper who confronted gunmen with a hockey stick has been overwhelmed by support.
Jayesh Amin was preparing to close his East Auckland store on Wednesday when a hooded man ran in and held a gun to a customer's head, threatening to shoot her.
Two others then ran in, one armed with a metal bar. Mr Amin swung at the men with a hockey stick - hitting one - before the three ran away.
Yesterday, he said people had been coming in to his Farm Cove Superette all day to praise him.
"People have come and said, 'Very good job', and how they were proud of me," Mr Amin said.
He had been sent gifts, flowers and an offer of a free night at SkyCity casino since the story of his bravery appeared in the Herald.
Two youths, aged 17 and 18, have appeared in the Manukau District Court charged with intent to rob, threatening to kill and commission of a crime with a firearm.
One was given bail. Both will reappear in court next month. Two others were arrested yesterday morning and will appear in court today.
Customers told Mr Amin how disappointed they were that one of the arrested men had got bail.
"They've been saying how hard it is and how some of the laws of this country are not good."
Some had suggested lawmakers might want to change bail laws if they were confronted by a gunman.
He had since spoken to the customer who had the gun held to her head and she was still traumatised. Victim Support was helping her.
Counties Manukau police spokeswoman Natalie Swart said the force wanted the public to help combat crime, but urged them not to take matters into their own hands.
"It can put themselves and others at risk ... The things that they can do is take note of vehicle details and descriptions of what people are wearing. But their best interest is to comply with the offender's request and call 111 and let police do their jobs."