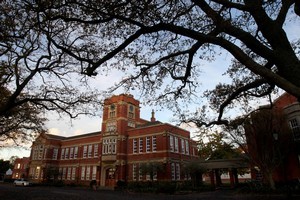 On Wednesday afternoon, the Holy Trinity cathedral filled with the sound of hip-hop, laced with expletives and lyrics such as "let's get high".
It was an incongruous soundtrack for the sober environment and an accurate reflection of a sector of society. The music played as people arrived, drawn by the tragic loss of a young life with so much promise.
Many people have contacted the Herald concerned that a fourth death of a King's College student in 17 months is indicative of a problem.
Few agreed to put their name to comments because of the sensitivity around both the issue of alcohol, drugs and youth and the death of David Gaynor, 17, last Saturday, not long after he was expelled from the school's ball.
David's best friend, Jack Driscoll, recalled at his funeral that some of the best days of his life were spent at the Gaynor family house, swimming in the outdoor pool.
"Those long days seem so short now," he told the congregation during eulogies that contained references to high jinks and drinking.
His death has again brought unwanted attention to a school regarded as an educator of the privileged (though the school is fundraising to be able to offer more scholarships) and of future leaders.
Its fees $20,000 for tuition plus $11,600 for boarders have risen above inflation over the past five years. Its roll comes from the Establishment, new wealth and those prepared to make sacrifices to pay for a good education, careful nurturing of their child and the networking possibilities of associating with the first two groups.
Hellaby, Caughey, Spencer, Nathan and Myers are King's names from decades ago, reported Metro magazine in its article "The Little Princes of King's". Later, it was Huljich, Stiassny, Foreman, Richwhite, Key and Banks.
The problem is not exclusive to King's, the chairman of the college's board of trustees, Peter Ferguson, a partner of law firm Simpson Grierson, said this week.
The country, he said, should be "extremely worried" about youth drinking and the drinking age should be raised from 18.
The road toll, crime and suicide statistics provide evidence of that but former Auckland mayor and Cabinet minister John Banks believes there is a specific issue for the college too. It had regularly come to his attention, Banks said this week, that "all is not right at King's College around bad behaviour associated with alcohol and drugs".
Banks' son Alex, a former boarder at King's, partied with James Webster, 16, last year on the night he died after drinking a bottle of vodka.
"I think it's two ways," Banks told the Weekend Herald. "The school and parents both need to take responsibility.
"If we as parents don't condemn what is wrong, how can we teach our kids what is right?" But he also notes that for boarders, who see less of their parents than day pupils, roles tend to cross over.
"Schools become parents and parents become guardians."
Teenage drinking and drug use is society's problem but pupils of elite schools can be particularly vulnerable because wealth can mean easy access, says a father of a pupil at another private co-ed school.
"Wealthy parents have got to have a serious look at what their kids are doing," he says. "There is alcohol, there are drugs, especially in the elite schools. The media really has to hit the parents and say 'it is your responsibility'."
He limits his 16-year-old son to one beer. "He went to a school ball a few weeks ago and stuck to that and had a great time." Parents need to press responsibility on their sons, he says, ensure they understood that the parents of their school ball date relied on him to keep their daughter safe.
School balls (including King's) have an alcohol ban and it's not unusual for pupils to be breathalysed on arrival as part of policing.
St Kentigern College has indicated it will also have a drug sniffer dog at its ball tonight.
But alcohol was served at pre-ball functions hosted by King's parents, former Fonterra boss Craig Norgate and TVNZ chief executive Rick Ellis. These were attended by many parents. There is a conflict between those who say no one left a pre-ball party drunk and those who say they were shocked at the state of some.
King's, which had a detox room available at the ball, says one girl was turned away on arrival because she was drunk, though it is unclear whether she had attended a pre-ball.
John Key, who picked up his son, Max, from the ball, saw "hundreds" of students leaving but none who appeared obviously intoxicated. Ditto radio host Susan Wood, whose son Matthew is also a King's pupil.
Both thought their kids were in a safe environment at the ball.
Wood attended the pre-ball hosted by Ellis and says she saw boys drinking beer and the odd girl with a glass of bubbles but no evidence of drunkenness or drugs.
The college has a zero-tolerance policy towards the use of drugs and alcohol and headmaster Bradley Fenner says it has robustly strengthened its education programme for students and families since Webster's death.
Ferguson says the school can't combat the problem alone. "It's a parent issue, we can't babysit everyone all the time."
Whether all King's parents understand is questionable going by a radio news report last year that in the weeks after Webster's death, a King's "parents committee" looked into how alcohol could be provided legally at the after-ball function.
Among issues discussed this week are whether a pre-ball, ball and after-ball (some of which go to 4am) are needed, or wise, and whether the lowered drinking age (inspired by Europe) fails to take into account NZ's culture of binge-drinking.
Which leaves King's. The college understandably defends its good reputation but it also has an obligation to do right by its pupils. It says drink and drugs is society's issue and appears to see no value in examining whether there is a problem within its own gates. It is to be hoped that is correct.
In an unfortunate episode in the 1990s when a serial paedophile (twice since convicted) preyed on King's pupils, the college's actions had the result of serving its own interest and, unwittingly, the paedophile's but failed his victims. It sought suppression of the school's name, provided references for the man later exposed as one of the country's worst offenders and hired a public relations consultant to fight its corner.
Of the current issue, one parent told the Herald he was convinced there is a problem at the school.
"A huge challenge for King's," he says, "is an extraordinary self-indulgence amongst an element of the school."
King's College
Founded: 1896.
Roll: 952.
Houses: Six for boarders, five for day pupils.
Girls accepted: 1980.
Motto: Virtus pollett (Manliness prevails).
- Additional reporting: Isaac Davison, Elizabeth Binning