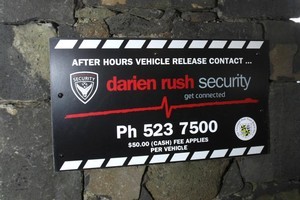 Up to 1500 private security officers will be hired to help patrol the Rugby World Cup in Auckland - where an All Blacks defeat ranks among the worst-case security scenarios.
Auckland security firm Darien Rush Security recently won the contract to provide security for North Harbour Stadium, adding to its existing contract for Eden Park.
The company will be responsible for getting people to and from train stations and around the stadiums smoothly, screening potential trouble-makers, and showing a friendly face to World Cup visitors.
Chief operating officer Jason Brott said the operation would be huge.
"There's a lot of expectation on us. We're the first face you come across [at stadiums]. There's a big public relations aspect to the training of our staff."
As the company nearly doubles its staffing pool for the tournament - from about 800 to up to 1500 - it will conduct extensive background checks on all potential employees.
Tournament organisers would run additional checks on every security officer from an anti-terrorism perspective, Mr Brott said.
The company's head of Rugby World Cup training, Dan Scott, said the tournament's operational planning was on a scale the country had never seen before, bringing together many agencies and preparing for all scenarios.
Among the worst-case security contingencies being considered is an early All Blacks defeat.
"It's even part of the risk profiling - what happens if the home team doesn't pull it off? I dread to think about it," Mr Scott said.
"The country goes into a depression. It literally does."
In Vancouver this week, the defeat of the home team in an ice hockey final sent angry fans tearing through the streets, setting cars and garbage cans ablaze, smashing windows and giant TV screens and jumping on overturned vehicles.
Riot police were needed to restore order in the downtown streets, which were strewn with garbage and filled with acrid smoke.
But Mr Scott said his company was among the most experienced security firms in Auckland and its staff were well-prepared for anything.
Overseas visitors to the World Cup tournament are expected to be the best-behaved - better than the local fans."
"The World Cup demographic will be higher end," Mr Scott said.
"They've paid a lot of money for a spectacular event - they're not going to throw beer through the air to get evicted. People will be into the event itself."