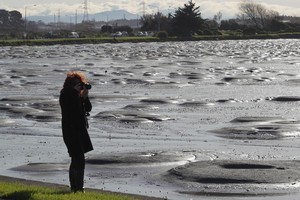 Christchurch, I suspect, is ready to hear the worst. The shock of last September has long passed, the wreckage of February has sunk in. This time the shake has left the city with a sense of resignation if my connections there are typical.
My brother was cheerful the next day with more muck to clear from around his business but none this time inside the building and no new structural damage.
Their homes all stood up. The worst of it this time is the implication for the future. This was the city's third thundering earthquake in nine months. Technically it may have been an aftershock but Christchurch has had thousands of those since September and knows the difference.
This was an "aftershock" that rumbles, roars, shakes the house, ripples roads and freezes the mind on the brink of disaster. Once was enough, twice was devastating, three is a trend.
Nobody is saying this out loud but it must be dawning on the city that it might have to live with this for many years.
Nine months ago they were told an earthquake on the scale that they had experienced could produce aftershocks for a year. After the February "aftershock" they were told the year had started again.
A few weeks ago they learned the council had been told there was a 23 per cent chance of another magnitude 6 or 7 aftershock in the next 12 months.
That forecast was quickly confirmed in a report on the GNS Science website announcing previously unknown active faults had been discovered under Canterbury and offshore.
Ten days later they were hit by Monday's twin shocks, the second registering 6.3. On Tuesday, GNS raised its forecast probability for another magnitude 6-7 within a year from 23 per cent to 30 per cent.
Each big earthquake seems to be a trigger for more.
Monday's movement occurred on another hitherto unknown fault, just south of the one at the northern edge of the Port Hills that ruptured on February 22. GNS calculates that the February quake has raised the hills by 25cm and lowered the eastern suburbs where liquefaction is worst.
It is a disgrace that people are still having to live in those suburbs now that winter has arrived. If the areas that will have to be abandoned are "blindingly obvious" to Gerry Brownlee why hasn't it happened?
Every time someone from the Government tries to explain this, they leave the distinct impression that there is something they know that they cannot say out loud.
Brownlee's inconclusive verbiage usually goes in the direction of insurance implications.
Maybe - and this can be only conjecture - a definite Government declaration that a piece of land was no longer suitable for housing would lessen insurer's liability. But if so, what would be the point of delay?
The only thing becoming "blindingly obvious" is that this seismic event under Canterbury is bigger than anyone expected and insurers will not want to pay out until it has run its course.
How long could that be? A GNS seismologist admitted this week they were in unknown territory. New Zealand has not suffered a sequence of big shakes like this in recorded history, though it has happened in other parts of the world.
Typically it happened, he said, in places of high tectonic stress in crust that is particularly strong and releases infrequently. Canterbury fits the description, faults rupturing now have been quiescent for thousands of years. But if occurrences elsewhere can tell us how long the earthquakes might last, the scientists are not saying.
Perhaps the possible duration could be devastating for confidence in Christchurch, causing it to lose a critical mass of population. But I doubt it. When people know what they face, when they can see an end to it, most can cope.
They have homes and buildings that have withstood three good shakes now. They have plenty of land that has not suffered liquefaction. Their business and careers are there. They don't want to live anywhere else.
If the rest of us find that difficult to believe, imagine if all of New Zealand was in this predicament? That is not complete fanciful, the country straddles a plate boundary and Canterbury is demonstrating that the most dormant regions of this stress-field can rupture at any time.
International insurers are worried about the whole country. The Insurance Council warned this week that we could face "a questioning of the level of insurability for earthquakes that New Zealand receives".
If Auckland starts rumbling tomorrow, I'll stay. When roots run deep they can survive many a shaking. Christchurch could survive no matter how long it takes. But they deserve to be told. With each big shake the answer may be less likely to surprise them.