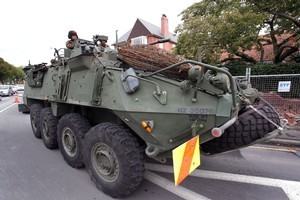 The New Zealand Army will continue manning Christchurch's Central City Red Zone around the clock for the next six months.
Army personnel have been guarding the central city cordon since February 22's destructive 6.3 magnitude earthquake and subsequent aftershocks, including Monday's two big quakes. The February quake claimed 181 lives.
Lieutenant Colonel Mike Duncan said 22 personnel were manning the five cordon points set up around the central city Red Zone 24 hours a day. It was expected Territorial Forces from throughout the country would share the duties during the next six months.
"It's a long, 12-hour shift, particularly in the middle of winter, but I am heartened by the stories that are coming back of the overwhelming support for the work our people are doing on the cordon each and every day," Lt Col Duncan said.
Aftershocks continue to shake the city but Earthquake Recovery Minister Gerry Brownlee remains adamant the Government will not release information on which areas can be rebuilt and which will be abandoned.
Mr Brownlee says the criteria for declaring land either safe or unsafe must be robust, and he will not back down on that. Nor does not accept people were in limbo.
"I've made it as clear as possible that there are some things that are blindingly obvious about future occupation of some land in Christchurch," he said.
He acknowledged there was pressure for answers.
"I don't like it, I lose sleep over it quite frankly, but I can't buckle. We're going to get it right so that when we get to an announcement point we have the minimum disruption," he said.
Any decisions made now would have an impact on future insurance premiums.
Labour leader Phil Goff, who visited Christchurch today to view the damage caused by the latest quakes, said there was a huge amount of uncertainty hanging over the city's people.
Power had been restored to most of Christchurch, after Monday's quakes cut power to about 56,000 customers, lines company Orion general manager of commercial Rob Jamieson said.
It was now responding to individual requests for power re-connection, with a "small number" of customers within the central business district's four avenues, but outside the Red Zone, were still without power.
Monday's aftershocks were not expected to have a significant impact on the major earthquake recovery work already under way following February's earthquake, Mr Jamieson said.
Christchurch City Council said it would have a better picture of damage to the sewerage system in Eastern suburbs by the end of today.
"[There had been] limited additional damage to waste water pipes in the Eastern suburbs but many of the waste water lines that were cleared of sand and silt from February 22 are likely to have refilled," Christchurch City Council water and waste manager Mark Christison said.
Anyone who had chemical toilets was advised to use them.
Ten per cent of properties - or 6552 properties - did not have water.
The boil water notice for all Christchurch residents remained in place.
Today, 59 schools were closed, with 37 expected to reopen tomorrow.
It was expected all schools would be open by Monday, Radio New Zealand reported.
The Earthquake Commission has classified Monday's quakes as a new event for insurance purposes, with a closing date for claims of September 13.
Meanwhile, Save the Children New Zealand said with each aftershock the demand for its programmes increased.
"While we are working across the city, the eastern suburbs have been the ones where demand has been the greatest. We have recently completed a series of programmes for parents and caregivers in the Sumner and Redcliff areas and are about to start work with an additional three schools in the eastern suburbs," project manager Leah Carr said.
- NZPA