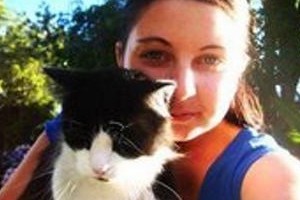 A Hastings woman who faked the birth, death and burial of a fictitious baby has admitted accusing her lover's new girlfriend of digging up the fake baby's ashes.
Kelly Ann Hunter, 20, was yesterday sentenced in Hastings District Court for the elaborate ruse that began with her telling her former flatmate - with whom she'd had a sexual relationship - she was pregnant with his child.
She continued the lie and later claimed to have given birth to a baby boy at a Hastings midwife's surgery in May last year.
Hunter, who works in retail, then duped the Department of Internal Affairs by posting them a birth registration form, which was processed and a birth certificate issued. Two weeks later she sent a cause of death notice to the department, stating her baby had died the same day it was born. The department then issued a death certificate.
A plot at the stillborn section of Hastings Cemetery was then purchased, and a plaque with the name "Jesse" placed with the inscription: "The world was never meant for one as beautiful as you".
Hunter then directed her attention to her former lover's new girlfriend and told police she had been "having problems" with her.
The deception took on a more sinister note on October 2010, where she swore an affidavit at Napier Family Court, and took out a protection order against the woman, swearing that someone had spray painted her son's plaque and dug up his ashes.
She claimed a witness had seen the new girlfriend's car leaving the cemetery.
Police said she later confessed her entire story was bogus, and admitted there had never been a baby.
Hunter pleaded guilty to making a false oath, and two counts of making a false statement.
Her lawyer, Susanne Lott, said she was "deeply ashamed and remorseful".
Mrs Lott claimed the offending stemmed from a "deeply affecting psychological disturbance".
Judge Geoff Rea sentenced her to nine months' supervision and ordered counselling.
"One of the difficulties I have is that bearing in mind your history with this it's very difficult to assess what is truthful and what is not regarding what you've told the psychologist ...you're quite capable of perpetuating lies."
No order for reparation was made.
Hunter's female victim, who did not want her identity revealed, told Hawke's Bay Today the lies were "disgusting".
"It's been so stressful, it was awful," she said.
"I'm scared I'm going to be accused of something else next."
She had spent $1800 on legal fees.
"I'm still paying this back ... it's cost me so much."
The Department of Internal Affairs admitted Hunter duped staff, and told Hawke's Bay Today the birth certificate was issued in error by an employee.
"It is believed that she [the staff member] did so out of a misguided desire to help a woman who she thought had given birth to a baby and then lost it on the same day," a department spokesperson said.
For more articles from this region, go to Hawkes Bay Today