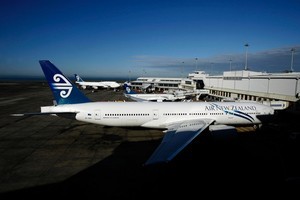 Planes are back in the skies of New Zealand and Australia but airlines are still trying to clear a huge backlog of flights.
It follows major disruption to flights in the South Island caused by the cloud of volcanic ash coming from Chile.
Air New Zealand has resumed most flights this afternoon, but not from Queenstown.
Aviation expert Geoffrey Thomas says the task of dealing with all those passengers who missed flights is enormous.
"An airline like the Qantas Group - Qantas and Jetstar, they've got 1000 flights a day. Virgin Australia have got nearly 70 aircraft as well so you're talking huge numbers here and it really underscores how important aviation is to the economy," he says.
Jetstar, Qantas and Pacific Blue flights in and out of Christchurch remain suspended for the day.
Air New Zealand's planes are flying below the level of a volcanic ash cloud.
The carrier's domestic flights from Invercargill, Dunedin and Christchurch and Trans-Tasman services from Christchurch were earlier cancelled until at least midday.
It said it had "no choice" but to make the cancellations when ash over the South Island from Chile's Puyehue-Cordon Caulle volcano descended to a low altitude.
A statement from the carrier said a new forecast enabled it to safely resume flying below the ash level in Christchurch, Dunedin and Invercargill.
However, services to and from Queenstown remained affected.
General Manager Airline Operations and Safety Captain David Morgan said Air New Zealand was working with the Civil Aviation Authority to identify safe flight paths.
There would be some delays as flights were resumed, he said.
Qantas budget subsidiary Jetstar has cancelled all its domestic and international flights in and out of New Zealand for the rest of the day.
The decision means 15 trans-Tasman and 31 domestic flights will be grounded.
A statement from the carrier said it would provide an update this afternoon on flights scheduled for tomorrow.
Qantas flights to or from New Zealand are not operating today.
Pacific Blue says it suspended services into and out of Auckland and Hamilton today.
Its Group Executive Operations Sean Donohue says the plume that had been in the Christchurch, Wellington and Dunedin regions had moved further north, necessitating the schedule changes.
Super 15 confusion resolved
A threat of disruptions to this weekend's round of Super 15 rugby because of the volcanic ash cloud has been averted, Sanzar claims.
It has released new travel plans for teams whose flights were delayed or cancelled due to the ash.
The Highlanders are now taking a charter flight from Dunedin to Auckland this afternoon for Friday night's match against the Blues, while the Crusaders will fly in a DC3 to Wellington for Saturday's clash with the Hurricanes.
The Reds, who play the Chiefs on Saturday, are flying into Auckland via an Emirates flight today.
The Western Force are booked on a flight due to leave Perth for Melbourne today.
Sanzar CEO Greg Peters said he was relieved to avoid the potential disruptions to the weekend's fixtures.
He earlier told nzherald.co.nz that all teams will be at their destinations on time but have had to change flight arrangements.
Passengers frustrated
Otago University student Jimmy Tait-Jamieson, 20, was sitting in a Wellington-bound plane at Dunedin when the aircraft was grounded.
"The pilot said another flight needed to be arranged, but then we were told that Air New Zealand had cancelled all flights," he said.
"The pilots were talking to Christchurch about whether they could fly lower and go under the cloud.
"We were about to leave when they told us we couldn't take off," Mr Tait-Jamieson said.
Chelsea Ngatuere was at Dunedin Airport about to return home to Whangarei after a visit to see family when her flight was cancelled.
She was worried that the disruption would unsettle her 13-month-old son, Josiah Ngatuere-Waaka, who lay in a carry-cot as his mother took care of the luggage.
Another passenger who left Christchurch on a flight to Auckland last night said Air New Zealand hurried other flights travelling north so they were not also cancelled.
"There was a flight earlier and they said in the PA announcement, 'We really need this flight to get away on time because of the ash so please board immediately'."
The MetService and the National Institute for Water and Atmospheric Research referred inquiries for comment to each other and the Civil Aviation Authority.
Air New Zealand said earlier yesterday that it had operated about 1000 flights and carried more than 50,000 passengers since the ash arrived in New Zealand airspace on Sunday.
Virgin Blue, Emirates, Singapore Airlines, Air Asia X, Air Pacific, Malaysia Airlines, Thai Airways, Cathay Pacific, Korean Air and others have also been flying to and from New Zealand.
More than 70,000 passengers in Australia and New Zealand have been at least temporarily stranded since the weekend.
In Australia, Qantas, Jetstar and Virgin Australia suspended more than 50 flights into and out of Perth yesterday, Associated Press reported.
Qantas was today expected to resume flights in and out of Tasmania, where some passengers have been stranded for four days.