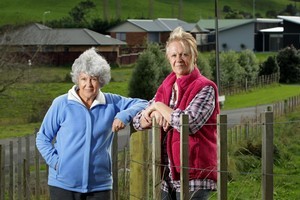 The slaughtering of animals in full view of children has prompted horrified locals in a Bay of Plenty town to call for tougher laws over where people can kill their cattle.
"Home killing" has become a point of contention in Waihi, where dwellings border lifestyle blocks on which slaughtering is legal.
Residents Claudette Hogwood and Vivienne Walker say they have witnessed cattle being killed and butchered in fields in plain sight of schoolchildren and surrounding homes.
They say present regulations around home killing are "Third World" and have complained to Prime Minister John Key, Local Government Minister Rodney Hide and their local council, which is now looking at a bylaw change to clamp down on the issue.
Mrs Hogwood said she was horrified to see five cows slaughtered one after another in a paddock opposite her house.
"I was walking down the road and thought, 'Oh someone is calving their cow', then I saw what was really happening. It was an outrage."
Police told her the activity was legal and nothing could be done.
"It went on from midday until 4pm, right in the middle of the school holidays. I thought, 'How can that be legal?' No one wants to be an audience to murder, be it man or beast."
In another incident on the other side of town, the midnight shooting of an animal woke neighbours. Its head and skin were left within sight of houses the next morning, Mrs Hogwood said.
Mrs Walker said lobbying the Government for law reforms had proven futile. "In the end, I was just told it was up to local councils."
Hauraki District Mayor John Tregidga asked other councils and found the situation was no different in other rural towns.
"It's a normal activity, it happens in a rural environment and what we are wanting to control is just the one or two who are being a bit insensitive in how they do it," he said.
"We did have an incident where there were children going home from school and obviously that's not the best time to do it.
"I think you have to keep it away from the public but, as far as banning home killing, that's not the intention of council.
"As much as you might have those rules in cities, they're really not appropriate here."
Hans Kriek, director of the animal advocacy group Safe, said the question should not be about where cattle can be slaughtered, but why.
"If people don't like having to witness it, then maybe they shouldn't be eating the products. As Paul McCartney once said, if slaughterhouses had glass walls we'd all be vegetarians."