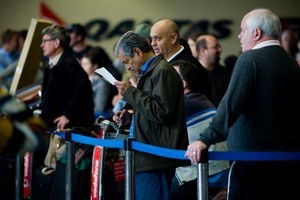 The ash cloud from Chile's Puyehue-Cordon Caulle volcano has finally caught up with Air New Zealand, forcing the airline to cancel three flights to Dunedin tonight, and two from the city.
The airline said the cancellations were because of increased volcanic ash activity in the south of the South Island. The cancelled flights are NZ693 Christchurch to Dunedin, NZ694 Dunedin to Christchurch, NZ679 Auckland to Dunedin, NZ459 Wellington to Dunedin and NZ678 Dunedin to Auckland.
The company said it would monitor the situation closely and update its position in the morning.
While some other airlines cancelled flights Air New Zealand had up until now been continuing to fly trans-Tasman routes and also domestic routes at a lower altitude to avoid the ash cloud.
The airline was flying well below the ash cloud which has a ceiling of 8229 metres, but it is burning 10 percent more fuel.
Air NZ said yesterday it had operated about 1000 flights and carried more than 50,000 passengers since the ash arrived in New Zealand airspace on Sunday.
Chief pilot Captain David Morgan said the ash cloud was at a very high altitude and its movement was predictable.
"By adjusting cruising altitudes of our aircraft we are able to continue to safely deliver customers to their destinations.
"Lower cruising altitudes mean we need to burn around 10 percent more fuel than normal, but we don't believe that's a reason to stop flying when there are perfectly safe flight paths available below the level of the ash."
Virgin Blue, Emirates, Singapore Airlines, Air Asia X, Air Pacific, Malaysia Airlines, Thai Airways, Cathay Pacific, Korean Air and others were also flying in and out of New Zealand, he said.
Meanwhile Qantas and Jetstar passengers will have to wait until at least tomorrow before their flights are cleared to take off.
Australian national carrier Qantas and its budget airline Jetstar said trans-Tasman and New Zealand domestic flights have been cancelled for at least the rest of the day.
Jetstar said in a statement it would not be flying into airspace affected by the ash cloud until it was confident it was safe to do so.
"The safety of our passengers, our people and our operations is always Jetstar's number one priority."
Affected passengers had the options of deferring travel, arranging to fly in to or out of unaffected airports, or getting a full refund.
The disruptions and cancellations have left thousands of frustrated travellers stranded on both sides of the Tasman.
In Australia, Qantas, Jetstar and Virgin Australia suspended more than 50 flights into and out of the Perth today, AP reported.
However, Qantas was tomorrow expected to resume flights in and out of Tasmania, where some passengers have been stranded for four days.
Air travel out of Melbourne and Adelaide has been restored.
- NZPA