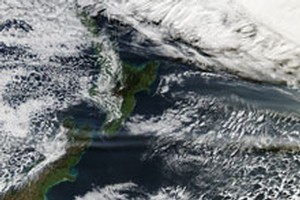 Qantas and Jetstar have now cancelled all flights across the Tasman and within New Zealand today, adding to travel misery for thousands of passengers.
Ash is continuing to spew from Chile's Puyehue-Cordon Caulle volcano, which has been erupting for more than a week.
Hopes of trans-Tasman flight schedules returning to normal today have been dashed, with all Qantas flights in and out of New Zealand and domestic flights cancelled for the day.
Qantas' budget arm Jetstar has also announced all of today's trans-Tasman and New Zealand domestic flights are cancelled.
Most other airlines have found ways to fly around or under the ash cloud, which has been blown by strong winds over the southern Atlantic and southern Indian ocean to Australia and New Zealand.
Airports in Argentina, Brazil and Uruguay are also closed.
Airservices Australia said the ash currently to the southwest of the Australian mainland and a large concentration of ash south of Madagascar, off the southeastern coast of Africa, could impact Australian airspace over the next week.
Spirit of Tasmania ferry services from Victoria to Tasmania have sold out until Saturday even after they opened up cinema seats, adding an extra 110 spots each day.
After her Melbourne-Hobart Jetstar flight was cancelled on Tuesday, Deb Oliver was told the earliest available flight would be on June 22.
Another 15 family and friends had already been stranded in Melbourne, with some lucky enough to get spots on the ferry on Friday.
"They're even trying to get a private charter to fly home, that's how desperate they are," Ms Oliver said.
Virgin's Melbourne-Hobart flights have sold out until Monday.
Tasmanian Chamber of Commerce and Industry chief executive Robert Wallace said businesses were starting to feel the effects of three days of cancelled flights.
"The main concern has been businesses with staff who have been unable to return to work," he said.
Virgin recommenced flights into all affected airports on Monday.
"We would not be operating if we did not believe it was completely safe," Virgin spokesman Colin Lippiatt said.
He said Virgin was flying under or around the debris to avoid any chance it could affect the planes.
Virgin put on extra return services for Sydney-Melbourne and Melbourne-Hobart to clear the backlog and hoped the 10,000 passengers affected over the last few days would be on flights by the end of Tuesday.
Greyhound Australia has put on extra bus services from Adelaide to Melbourne and Melbourne to Sydney.
Air New Zealand is continuing to operate as normal with planes flying at a lower altitude.
Peter Gibson from the Civil Aviation Safety Authority said it was up to individual airlines to decide how to deal with the volcanic ash and he was not surprised there were different opinions about the best option.
More than 70,000 passengers have been affected since airlines began cancelling flights on Sunday.
-AAP and NZPA