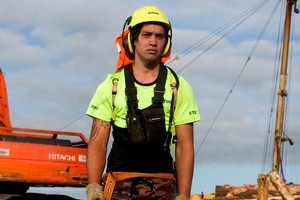 Northland's booming forestry industry says it is still hard to find workers to haul logs out of the hills to meet huge demand from China.
Forest harvesting contractors, United States-owned Hancock Forest Management, Work and Income and the Forest Industry Training Organisation Fitec have formed a partnership to train 50 young unemployed people so far to fill gaps in the forestry workforce.
Hancock operations manager Rowan Struthers said about 700 people worked in forest management and contracting in the region and that would grow to about 850 over the next 10 to 15 years.
The region's wood production has already jumped from 1.8 million tonnes a year in 2008 to 3 million tonnes today, driven mainly by China.
Pat Paikea, 19, who completed the training course two months ago and now works for milling contractor Tom Skipps near Tutukaka, said it was tough work climbing up and down the hills to tie up newly felled trees to be lifted to a mobile ridge-top sawmill.
A friend who started at the same time dropped out quickly. "It might have been too tough for him."
A workmate picks Mr Paikea up from his Kamo home at 6am every day, rain or shine. But as a permanent job it's better than his previous seasonal packhouse work, and much better than the dole which was all he got after the seasonal work ended.
"It's all right," he said. "I want to stay in it."
Northland is New Zealand's second-biggest forestry region with 200,000ha of plantations, behind only the central North Island.
Mr Struthers said it was still very difficult to find skilled workers with the right attitude, even in the recession. "Forestry work is physically demanding and it also requires that new entrants undertake training to ensure they are safe," he said.
The industry has also had a policy since August 2009 of regular random drug-testing all workers, including contractors and truck drivers.
Mr Struthers said marijuana was the main problem, but the number of workers showing up with the drug in their blood had dropped since random testing began.
"If a worker tests positive they cannot resume work until they test negative," he said.
"They have to make a lifestyle choice."