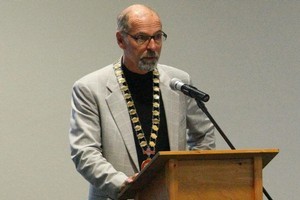 Live in New Zealand, work in Australia. That's the new lifestyle some see as Northland's economic future.
Far North Mayor Wayne Brown says attracting wealthy Australians to live in Northland is one of three keys to tackling the region's high unemployment rate, along with tourism and mining.
And Berl economist Kel Sanderson says many Kiwis are already commuting on the Auckland-Perth "miners' express" between their homes in New Zealand and mining jobs in outback Australia.
"We were on that the other day. They get on and off the planes in their shorts and jandals and an overnight bag. They have homes in both places so they don't need luggage," he said.
"They live in digs in the mines up there and have a house back here."
Northland has Australasia's highest unemployment rate of 9.8 per cent. The next-highest rate in New Zealand is 7.9 per cent in Auckland and Hawkes Bay/Gisborne, and Australia's highest rate is 5.8 per cent in Tasmania.
The recession in Northland has had most impact on young people, with 29 per cent of the region's 18- to 24-year-olds now on welfare, and on Maori, with an extraordinary 48 per cent of Maori aged 18 to 64 on benefits.
It has been driven by the collapse of the building industry. Building consents for new dwellings halved from 1212 in the year to April 2008 to 637 in the year to this past April, and the 890 jobs lost in construction and related sectors accounted for more than half of the region's total net loss of 1760 jobs.
But Mr Brown, a Kerikeri-based property developer, said Australians were starting to buy up local properties.
"Recently I've sold land and buildings to an Australian retired policeman because the [Australian] pension is worth 25 per cent more here and the house is 25 per cent cheaper, and the weather's better," he said.
"We are doing a bit of advertising about living in the Bay of Islands to Australians and they are going to come over in a rush. There are people who have gone there and worked in mining and don't want to spend the rest of their lives in Port Hedland or Kalgoorlie."
The region's leaders believe tourism also has huge potential to create more jobs. Northland has recently been running neck-and-neck with Rotorua for fifth place in total visitor nights, behind only Auckland, Canterbury, Wellington and Queenstown.
Mr Brown's Far North District Council has just opened the first stage of a planned "twin coast cycleway" from the Hokianga Harbour to the Bay of Islands, and the Whangarei District Council has unveiled plans for a $12 million museum in the Town Basin designed by the late Austrian-born architect and artist Friedrich Hundertwasser - a project which could attract a new hotel if it goes ahead.
"We are looking for all opportunities at the moment - public/private partnerships, joint ventures, and there is council funding along with other funders," said acting Whangarei mayor Dr Phillip Halse.
Whangarei also boasts a gleaming new $18.5 million regional event centre ready for the Rugby World Cup, Toll Stadium (formerly Okara Park), and is about to build a new $29 million road across its lower harbour. More controversially, Mr Brown believes mining could be another source of jobs.
"We are just finishing the mineral survey of the district. We are pretty sure that's going to produce quite a lot of mining," he said.
Work and Income's Northland labour market manager Carol Barnett sees scope for new jobs across a range of other primary industries including forestry, manuka honey, fruitgrowing and avocados, with several new avocado orchards about to start yielding fruit on the Aupouri Peninsula north of Kaitaia.
Whangarei Engineering managing director Glenn Heape said ship repair had remained "reasonably buoyant".
He has boosted his staff to 35 this year to build four barges for a client in Noumea.
FIND OUT MORE
Saturday: Youth crisis in the North
Yesterday: How can Auckland recover?
Today: How can Northland recover?
* Is unemployment affecting you? Email simon.collins@nzherald.co.nz