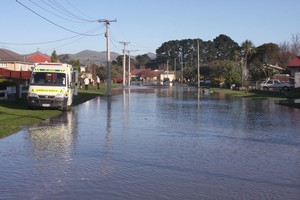 Frosts are forecast for Christchurch overnight, MetService says, as many Cantabrians are set to be without power for the night.
Today's significant aftershocks, which included a magnitude 6 and a magnitude 5.5, knocked out much of the city's power network, with Orion working to restore power to around 54,000 homes.
While many suburbs have had their electricity restored, Orion advised residents to be prepared for a night without power.
MetService forecaster Ian Gall said an overnight low of 1 degree Celsius is forecast for the city, with frosts in the morning.
"As things go it will be chilly, but it could be a lot worse," Mr Gall said.
While overnight temperatures this month have been between 5 and 10 degrees Celsius, last night the mercury dipped to -1 degree Celsius, and to -2 degrees Celsius the night before.
"Tomorrow should be pretty reasonable, it will start with those frosts ... but there will a maximum of 14 degrees Celsius.
A welfare centre has been opened at Cowles Stadium in Aranui for those unable to stay in their own homes overnight.
Meanwhile the Canterbury District Health Board is advising people to boil or treat water before drinking, brushing teeth or using in food preparation.

- Herald Online