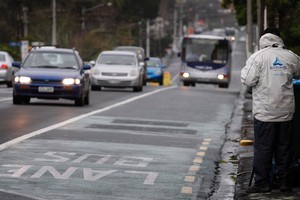 Auckland Transport has been accused of "money-hungry militancy" over the increasing number of motorists being issued $150 bus lane fines on Grafton Bridge.
Auckland councillors Cameron Brewer and Calum Penrose said yesterday that the transport agency's figures for the year ending May showed 14,253 bus lane infringement notices were issued on Grafton Bridge.
The bridge is closed to cars from 7am to 7pm on weekdays.
They reckoned that at "$150 a pop" the potential revenue from bridge tickets over 12 months was $2.1 million.
Since June last year, the monthly average had risen from 1000 tickets to nearly 1300.
When the bridge reopened in late 2009 as a bus corridor, a lot of motorists were pinged, said Mr Brewer.
Mayor Len Brown had promised the days of overzealous traffic wardens were behind us, he said.
"Sadly, the reality is the number of cars being snapped on Grafton Bridge is again tracking upwards.
"This kind of money-hungry militancy could damage Auckland during the Rugby World Cup when we have an extra 41,000 visitors in town."
Mr Penrose, who represents Manurewa-Papakura, said he was getting a lot of complaints from people snapped by the bridge's bus lane enforcement officers' cameras.
"They simply don't realise the bridge is closed to cars during the day.
"Some don't even know they've done anything wrong until the ticket turns up. They can't remember seeing any signs or any advertising."
Mr Brown rejected any suggestion that bus lane transgressors were being targeted to keep Auckland rates down.
He said the council-controlled agency had not set targets for bus lane fine revenue.
"I have made it clear the best way to make bus lanes work was through education rather than fines.
"A review of all bus and high-occupancy vehicle lanes under way across Auckland will give us an indication of the best way forward on this issue."
Auckland Transport spokeswoman Sharon Hunter said the review was nearly completed and would include Grafton Bridge and an assessment of its signs to warn motorists.
The agency noted an increase in the number of bridge users being fined despite the overall downward trend for Auckland.
The monthly number of infringements per bus lane had dropped from an average of 300 in 2007 to 150 in 2011, she said.