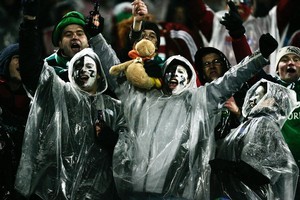 If the All Blacks have to rely on the crowd bursting into song to win the Rugby World Cup in October, they'll be in big trouble, diehard sports supporters say.
Two rugby fans this week released a song which they hope will get shy fans singing at games, but experts say it will take more than that to change habits.
In contrast to British - particularly Welsh - rugby fans, Kiwis are not noted for singing at sports matches. But that hasn't stopped UK-based Chris Martin (not the Coldplay singer) and Waikato businessman Chris Williams from launching a song, I Was There, in the hope it will ring out from the stands come Cup time.
"There's no better party than the one in which you have a singalong," said Williams, the owner of King St Advertising. "It'll be a challenge to get people to sing it at the game, but if people hear it often enough it'll take on a life of its own."
He argued Kiwis weren't big singers at sports games because they didn't have a "decent" song to sing.
But diehard fans are not convinced. Paul Ford, founder of Black Caps supporters group Beige Brigade, said the project was "doomed to failure".
"There's just no real tradition of doing it, while in the UK and other parts of the world it's part of the match day experience," he said.
Unified songs at games worked, "but only when they're from the people, by the people, for the people," said Ford.
A spokesman for Yellow Fever, supporters of football side Wellington Phoenix, agreed.
"They might have a tough time pushing it on to an audience," he said.
Voice coach Linda Cartwright said the characteristic Kiwi reserve was the result of cultural and physical factors.
"I have a theory that when the pioneers came here the one thing they wanted was to make their own way. A lot of the time those who were rural were so damn physically tired. You don't talk much when you're tired," she said.
Speech habits were passed down through generations and speaking and singing "is not one of our things", she said.
The Kiwi accent was also placed far back in the mouth, which was "not conducive to getting a sound out".
Williams and Martin, however, are not the only ones trying to rouse fans into singing at games. Radio Sport host Miles Davis, who penned the song the All Whites used during their qualifying campaign for last year's World Cup, is also working on a new ditty. It's due for release next month and members of the Exponents are working on the project.
"I'd just like people to enjoy the experience and make a difference," he said. "Why would you spend all that money and not be part of the game?"
As long as we're not hearing Swing Low, Sweet Chariot during the final few moments of the World Cup final on October 23, Kiwi fans will probably be happy.
I Was There is available for free download from the website www.middleman.co.nz.
Sing, sing a (rugby) song
Can you create a catchy anthem for New Zealand that could echo around our stadiums during the Rugby World Cup?
Then the Herald on Sunday wants to hear it.
All you need to do is record a video of your best crowd-rousing chant, then upload it to YouTube (tag it with nzheraldtv) or send it directly to nzherald.co.nz.
And don't forget to share the lyrics.