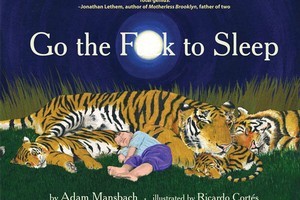 As tired parents everywhere know, there's nothing funny about a child who won't sleep - and Family First leader Bob McCoskrie wants to keep it that way.
The head of the Christian-based lobby group is calling for a book called Go the F*** to Sleep to be banned before it even hits New Zealand shelves, labelling it "offensive" and "littered with offensive language".
The American book resembles a children's bedtime story book, complete with colourful illustrations and rhyming verse.
It has been acclaimed internationally as a "hilarious parody", "a children's book for adults" and "the secret anthem of tired parents everywhere".
Lines include: "The windows are dark in the town, child. The whales huddle down in the deep. I'll read you one very last book if you swear you'll go the f*** to sleep."
The book's author, Adam Mansbach, wrote the humorous verses to vent his frustration when his beloved 3-year-old daughter Vivien became harder and harder to put to bed.
"We wanted to claim back the evening, the only free time we had in the day, for ourselves, but it was becoming increasingly impossible," he told the Sydney Morning Herald.
His book has rocketed to the top of Amazon.com bestseller's list but McCoskrie said it normalised verbal abuse.
He was particularly concerned it was "masquerading as a children's book", which meant children who saw it would want to read it.
"It has no redeeming factors. Our plea is to retailers not to stock it."
McCoskrie, the father of three children, aged 7, 10 and 13, said like many parents he could tell stories of struggling to get children to sleep.
But the expletive-laden language in the book trivialised the issue of family violence and emotional abuse.
"We would rather parents spent their hard-earned money on a book on quality parenting, or a book they can enjoy reading to their child," he said.
Booksellers New Zealand chief executive Lincoln Gould said Family First needed a sense of humour.
The book was a stress-reliever for parents trying to get their children to sleep.
"It's not a children's book and booksellers will not be selling it to children," Gould said.
"It is a very funny adult's view of how difficult it is to get children to go to sleep."
Auckland comedian Jeremy Corbett, father of 6-month-old daughter Charlie, had some advice for McCoskrie: "Relax for once, let it go. No one's going to show it to their kid.
"Anyone who shows that to their kid, it's going to be amazing if they even know what a book is."
The 7 Days host said the key to getting Charlie to sleep was recognising her "tired signs", such as when she rubbed her eyes and face, then getting her to bed straight away ... in a soundproof bedroom so he couldn't hear her screaming.
- Additional reporting: NZPA