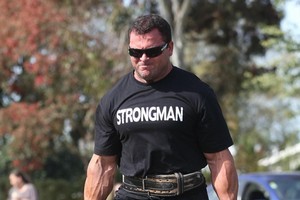 New Zealand's strongest man dragged a motorist from a car and unleashed a flurry of punches to the man's face in a road rage attack.
Dale Shepherd, 40, has been found guilty of injuring with intent to injure and is to be sentenced at the Auckland District Court next week.
The weightlifter became the oldest person - and lightest at 105kg - to win the New Zealand Strongest Man title last November, breaking four records in the process.
But six months before winning the title, Shepherd was charged after a road rage attack in the Auckland suburb of Kohimarama.
On April 2 last year, Shepherd was driving a 4WD and passed a slower car on the steep stretch of Allum St nearing a bend. The two cars collided in a minor accident.
But then Shepherd - on his way to another strongman competition - got out and punched the other driver several times in the face.
He dragged the 30-year-old man out of the car, punched him in the face several more times and threw him on the bonnet.
The victim was left with a swollen and bruised face, as well as a cut lip.
Feats of strength in the annual strongman competition include pulling trucks, carrying anvils and lifting logs.
Shepherd is the director of the Miada company group, which owns gyms in Otahuhu and Avondale as well as a fitness supplement distribution chain.
He is also the director of two companies called Whoopass and Harden Up.
The charge of injuring with intent to injure carries a maximum sentence of five years in prison.
The Weekend Herald can also reveal Shepherd has previous convictions for possession of prescription medicines and a firearm, after being found guilty in the Whangarei District Court in May 1998.
He did not return messages yesterday.