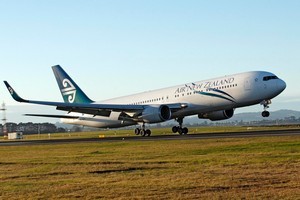 A full-scale emergency at Auckland International Airport is over after an Air New Zealand passenger jet carrying 216 passengers and crew landed safely with a badly damaged engine.
The Boeing 767 had just taken off for Perth at 2.25pm when the crew reported the emergency, saying there was severe damage to its port engine and it was returning.
It returned to Auckland immediately, landed at 2.52pm without further incident and taxied to the gate.
The incident occurred just after takeoff at 1800 feet, with bird strike a possibility, and the captain elected to shut down the left hand engine.
The captain briefed the 206 passengers onboard, including explaining that any flame seen from the engine is not unusual when it is shut down in flight.
Affected passengers are being accommodated in hotels until a replacement aircraft is available for a departure later this evening.
Air New Zealand said there is no visible damage to the engine, with engineers to begin an immediate inspection.
The call sparked a full-scale alert when all the airport fire tenders were turned out and appliances from the southern areas of Auckland raced to the airport to support the airport ones.
The Fire Service said it was standard practice during an airport emergency to send additional machines.
A spokesman said if the airport tenders needed to pump foam on to a burning aircraft, water would be provided by appliances from other fire stations around the city.
An airport spokesman said it was a full-scale emergency when the pilot radioed the control tower and reported the engine damage.
"The pilot indicated emergency services should attend," he said.
Air New Zealand engineers were inspecting the damage. The airline said the nature of the damage was not yet known.
The Civil Aviation Authority said it had been told of the incident and would wait until it had further details before decided if an inquiry would begin.
- Herald Online, NZPA