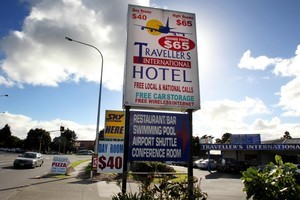 A hotel near Auckland Airport advertised as four star has been slammed for being filthy and having no hot water, a broken spa pool, poor food and rude staff.
Allison Hofstadler, a New Zealander living in the United Arab Emirates, booked a $99 special deal at the Travellers International Hotel.
"It looked great on the internet and we were excited about having a spa or swim in a heated pool to relax," said Mrs Hofstadler.
But the family of four stayed only one hour.
"The World Cup is fast approaching and New Zealand really doesn't need bad impressions from poorly managed hotels," Mrs Hofstadler said.
"Our room wasn't a studio; it was a small room crammed with double bed and two singles.
"The balcony was littered with rubbish. The shelf was black with grime and the glasses dirty. The beds had poor quality bedding, very small towels barely bigger than a hand towel and provided only two for four people.
The floors had not been vacuumed."
After an unsatisfactory buffet meal for $20 each at the restaurant and seeing the spa pool was out of order, came the last straw.
"We ran the shower for the kids but there was no hot water. The manager made out it was our fault that the water was not working, telling us it had been working fine for 20 years."
The family decided to shift camp to the hotel next door, taking away $84 after deducting the booking fee.
Mrs Hofstadler said they were not the only ones at the front desk complaining. And when she posted a review on tripadvisor.com she saw 20 other people's negative comments about staying at Travellers International since last year.
Travellers International general manager Mohammed Hafiz said complaints about lack of cleanliness concerned him because the hotel had quality control over its housekeeping.
"We do have a very high occupancy and there may be some mishaps but generally we keep up to it.
"There could be one or two things wrong in the family's experience but not the whole lot as per the letter of complaint."
He said the family expected too much for the studio rate, which amounted to $24.75 for each family member, and included a complimentary cold breakfast and airport transfers.
"With the cost of meals taken out the room's cost is too small."
Some guests put their rubbish out on the deck but by late afternoon, staff would pick it up, Mr Hafiz said.
"I do not agree that the shelves are covered with grime. The glasses are washed every day."
He said beds, sheets and towels were of commercial quality and changed daily.
Two towels were normally supplied to each room and one each was available for extra people in the room.
The 150-seat restaurant served meals from 7am to 10pm daily and he had had no complaints about the "free" breakfast.
The hotel had changed hands on April 21 and was being refurbished.
"We are the most competitive and best price near the airport."
Four gold stars show above the hotel's listing on the mangerehotels.com website but Mr Hafiz said this was incorrect.
The hotel had no Qualmark rating and instead rated itself "two and a half to three stars".
Hospitality Association New Zealand chief executive Bruce Robertson said the Qualmark was the only rating guide for the public in New Zealand and hotels that "self-rated" must be realistic.
"But no matter what the star rating, if you are renting space out to the public it should be in a clean state."
Mr Robertson said all guests expected a room to have been cleaned and that linen and towels and glasses were clean.
The quality of all things which guests touched and used was supposed to improve as the grading and prices went up.
Mr Robertson said visitors coming to Auckland for the Rugby World Cup, as for any event, were advised to check on the websites' feedback before booking.
"Generally there's a relationship between price and what you get."
CUSTOMER FEEDBACK
* "NEVER ever stay here. This was by far the worst hotel I have EVER stayed at. We paid $100 New Zealand per night for 2 nights and it was disgusting. They promised free wifi and it didn't work. They also promised Free Breakfast which was disgusting and we were treated like dirt the whole time we were there."
* "My daughter went to use the toilet, but someone had used it before we arrived - it hadn't been cleaned!!"
* "I am investing time and money into researching time travel, so that I can go back to the time before I booked to stay at this 'Hell-tel' and have it all again."
* Avoid at all costs. It is, without doubt, one of the worst places we have ever slept. It was dirty, dark and smelly. I know it was cheap but cleanliness costs nothing."
- Source: tripadvisor.com