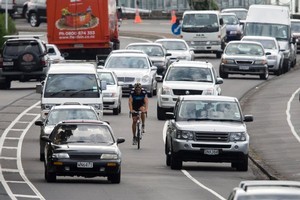 Contractors have moved swiftly to remove a slippery surface blamed for cycle crashes on Tamaki Drive, only for Auckland Transport to be told of a similar problem up the road.
The council-controlled organisation called in the contractors over the holiday weekend to blast a plastic surface off a white line on the outside of a section of bicycle lane on the bend next to Kelly Tarlton's Underwater World.
That followed a complaint by recreational cyclist Jim Tabak that he suffered a broken shoulder blade last week after a companion slipped on the white line before toppling on to him.
Mt Eden Cycles owner Mark Taylor said he knew of other crashes, including another cyclist who broke a collar bone on the same day, when wet weather made the line extra slippery.
The site is just across the road from where British cyclist Jane Bishop was knocked off her bike and killed last year.
Cycle Action Auckland spokeswoman Barbara Cuthbert said she was pleased with the prompt action, but she was alarmed to have heard over the weekend from a cyclist who crashed on a similar surface on a separate bend around Bastion Pt.
Ms Cuthbert was also disappointed to learn that the contractors had removed the slippery surface at the other site for only about 8m east of the Kelly Tarlton bend.
The removal process began at the start of a green-surfaced section of bike lane, and continued for about 90 metres around the bend to the west.
She said the fact the contractors had not been more generous in their efforts to the east of the bend was "crazy" and illustrated a mentality of "panic-patching" rather than a comprehensive approach to safeguarding Tamaki Drive for cyclists who used it.
Auckland Transport spokesman Wally Thomas said his organisation would check road markings elsewhere on Tamaki Drive as soon as possible.