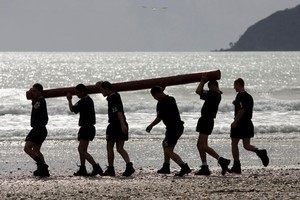 Principal Youth Court Judge Andrew Becroft has thrown his weight behind the Government's military activity camps for troubled youths, calling them a success that could be expanded and applied to other parts of the country.
The MACs (military activity camps) have been controversial since their inception, with critics calling them a waste of money for a programme that has already seen more than half of the participants reoffend.
But in a May 26 letter to Prime Minister John Key, tabled in Parliament yesterday, Judge Becroft called the MACs a "success".
"Cautiously, they could be expanded into two of the remaining three residences - Wiri (South Auckland) and Palmerston North - which are located close to military training facilities," Judge Becroft said.
This contrasts with the criticism of bootcamps last week, when Mr Key's chief science adviser Sir Peter Gluckman said they had "limited efficacy".
While it was possible to find some "apparently successful programmes", Sir Peter said it was unclear what distinguished a good programme from a bad one, which reinforced the need for well-founded evidence.
The camps are part of the Government's Fresh Start programme aimed at the most serious cases that come through the Youth Court; four out of five young offenders who receive the toughest sanctions reoffend within five years.
In February Government figures showed that nine out of 17 youths that had taken part in trials in September 2009 and April 2010 had already re-offended.
At the time the youths had yet to fully complete the programmes, which include up to a year of follow-up support.
Judge Becroft said many of the Government's programmes were having an impact.
Youth Court numbers had dropped by 31 per cent in the past two years, though youth violence had increased significantly since 2005.
"This is a small but extremely problematic group.
"Girls' involvement in violent offending is increasing relatively faster than boys'," Judge Becroft said.
He said Rangatahi Courts - which involve family group conferences on marae - had reduced reoffending from 51 per cent to 27 per cent, while an initiative to re-engage troubled youths in education had reduced reoffending to just 16 per cent.
"These are extremely encouraging figures. Unheard of, in fact," Judge Becroft said.
"Suffice to say, the key message, from my point of view, is a positive one.
"In an environment of overall decreasing apprehensions, albeit with violence increasing amongst a small group, new initiatives and programmes ... are making a difference.
"But there is more to be done."
During question time yesterday, Mr Key said the MACs would be evaluated in time, but it was too early to do so at this stage.
COURT TRENDS
* Youth court numbers dropped 31 per cent in the past two years - but youth violence is increasing.
* Rangatahi Courts had reduced youth reoffending from 51 per cent to 27 per cent.
* Education officers in the Youth Court re-engaging troubled youths in education had reduced reoffending from 51 per cent to 16 per cent.