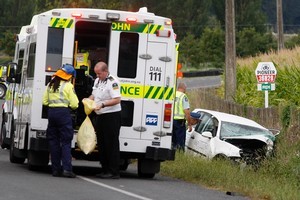 Police were last night holding out strong hope of achieving the first zero road toll of any holiday weekend on record.
But they won't be taking all the credit this morning if the country made it until 6am - the official end of Queen's Birthday Weekend - without a single road death since 4pm on Friday.
"I'd like to congratulate the drivers of New Zealand because they have behaved in the main extraordinarily well," said Superintendent Paula Rose, the national road policing manager. "They have voluntarily complied with the lower speed limits, they have been really attentive to their driving and have driven to the conditions."
If there were no deaths overnight, this Queen's Birthday will have been the first holiday weekend since records began in 1956 in which the road toll stood at zero.
There was one death that year and, although Queen's Birthday generally has the lightest traffic of any holiday weekend, its toll rose to 24 in 1973. The police were relieved last year when only two people died on roads over the weekend after 10 deaths in 2009.
They hailed their introduction last year of a lower tolerance of speeding - down from 10km/h over legal limits to 4km/h - as helping to reduce the carnage. That followed a shocking Easter, when 12 people died on the roads.
But their relief turned to horror again over Labour Weekend last year, when eight people were killed despite the lower tolerance level.
Although the police announced last week that the lower tolerance would become a permanent feature of public holidays, Ms Rose refrained yesterday from singling that out as a particular cause of safe driving over this Queen's Birthday.
She said most drivers - apart from a larger number than usual of illegal street racers - were generally well-behaved.
There was less speeding than usual, fewer calls to the police about dangerous driving, and the number of crashes her officers attended was down on Queen's Birthday Weekend last year.
Although the police in Milton in Otago issued about 300 speeding tickets, that does not appear to have been replicated elsewhere.
Auckland road policing manager Inspector Gavin Macdonald said he would not know until today how many tickets his staff had issued, but indicated that lower tolerance in his district did not mean zero tolerance.
He said a number of drivers travelling faster than the 4km tolerance level had simply been given warnings after being pulled over.
"They're not issuing heaps of tickets," he said of his staff.
"We've issued a few speed tickets but we've also been stopping people and speaking to them about the decreased tolerance, and just education."
Ms Rose said a high level of illegal street racing, particularly in Waikato where her staff had been especially vigilante on that front, had been one of the only blots on the weekend.
By late yesterday, the police had taken action against 118 offenders, a figure 12 per cent higher than for the whole of Queen's Birthday weekend last year.
Automobile Association motoring affairs manager Mike Noon said drivers had obviously responded well to challenging weather conditions, including heavy rain.
Mr Noon supported making the lower speeding tolerance a permanent feature of holiday weekends.
"We think the public is reasonably accepting of it, and it is having an effect - combined with an increased police presence - of calming traffic."
But he did not believe the 10km/h tolerance level at other times should be reduced. He said there needed to be a point of difference for drivers to focus on at holiday weekends.
"You can't have increased awareness all the time - it just doesn't work."
FATALITIES
Queen's Birthday road toll:
Previous lowest (since records began in 1956)
* Queen's Birthday
1956 1 death
* 2010 2 deaths
* 1959 2 deaths
* Highest, 1973 24 deaths
Highest for other holiday weekends:
* Easter 1971 21 deaths
* Labour 1978 16 deaths