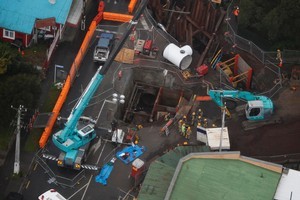 A resumption of work planned for today at the site of an underground pipeline explosion in Onehunga was thrown into doubt late last night when the site was closed again after workers smelled gas.
The site had been re-opened yesterday after Saturday's blast which killed mother-of-two Philomen Gulland.
Last night, the Fire Service and police handed it back to Watercare Services and HEB Contractors so they could complete connection of a new pipe and resume water supplies on one of the city's major watermains.
But staff preparing last night for a planned resumption of the work today said they smelled gas, and the site was closed again.
Ms Gulland, a 48-year-old Canadian, a network maintenance planner for Watercare Services, was killed after entering a watermain pipe due to be connected to a new pipe.
Fire Service area commander Murray Binning said methane gas had been found in the pipeline but he did not know the source of the gas or what caused the explosion.
HEB Contractors chief executive Derrick Adams said the company would take rigorous precautions, including testing for gas in the trench around the pipes, before welding a new section of pipe to the existing pipe, a job lasting about eight hours.
Mr Adams and Watercare chief executive Mark Ford said they had no idea about the source of the gas which caused the blast shortly after 8am.
Watercare chief operations officer Raveen Jaduram said they were dealing with a pipeline that only 12 hours before was filled with water and had been drained.
"It had been cut. There was no explosion and then something happened.
"When the pipeline is being emptied of water, air gets in through air valves ... From somewhere, some source, these gases got in," Mr Jaduram said.
Asked about the possibility of the methane gas coming from an old landfill, Mr Ford said the Auckland Council-owned water company had a consent based on all known issues of the geology and topography of the area.
Work at the site encountered only solid rock, he said.
Mr Ford would not comment on reports that someone taking a photograph inside the old pipeline could have ignited the gas, or that Philomen Gulland and another Watercare worker, Ian Winson, entered the pipeline before gas safety levels were taken and paperwork completed.
He said it was up to the Fire Service, police and Department of Labour to look at all the issues and determine what happened.
The tragedy "devastated" Mr Ford, who is made a Companion of the New Zealand Order of Merit in today's Queen's Birthday Honours for services to local government.
He did did not want to comment about the death taking the shine off his honour, but spoke about losing an important member of the Watercare staff and family.
He said Watercare had a culture of safety and a magnificent safety record: "We don't take risks in Watercare and staff, I think, are appreciative of that."
Mr Ford said that in his 17 years with the company there had been no other deaths and he could not think of a major injury.
Mr Jaduram said Auckland's water supply was secure, despite the temporary loss of the Hunua 3 pipe, which was taken out of service over Queen's Birthday Weekend because demand was low over the three-day break.
Aucklanders were being asked to use water wisely purely as a precaution, he said.
The tragedy occurred on the $240 million project to build a new Hunua 4 watermain that will run 28km from Redoubt Rd in Manukau to Campbell Cres in Epsom.
Dennis Nand, a taxi driver living a few houses from the blast site, said there was a "sonic boom" as a shockwave passed through the pipes below his house.
"It looked like there was something crawling through the walls. It was a massive explosion."
Mr Nand said he had noticed a strong smell of gas when he returned home from his taxi shift at 6.30am.