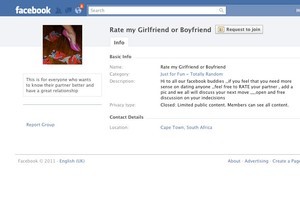 Teenage lovers are rating their partners' performance on Facebook, in a new phenomenon that has alarmed child protection authorities.
The pages, run by anonymous administrators, encourage users to score sexual partners out of 10. The ratings are then posted for public viewing.
Hundred of users, mostly secondary school students, have signed up, the Herald Sun revealed.
And the sites are just "a drop in the ocean", a small part of a growing problem, said Sean Lyons, spokesman for cyber safety organisation Netsafe.
In Australia, critics called on Facebook to shut down the sites, saying they were appalled by the trend.
But Lyons said that was futile: "There is no single answer that will take away the pain for everybody. You could say take away the page, but if you do, another one pops up," he said.
"Some kids will genuinely brush it off and say it's a silly page and some kids will be traumatised by it and need help getting over it."
The organisation received a "steady" number of complaints about online bullying, including fake Facebook pages and planned flashmob parties, said Lyons.
A Netsafe survey of New Zealand secondary school students found one in four said they had been the victim of text, email or Facebook bullying.
One of the sites was taken down by the administrator, after being contacted by the Herald Sun. But other less in-your-face sites, such as Rate my Girlfriend or Boyfriend, remain.
Lyons advised parents to be aware of the sites their children were using and talk to them about any potential issues.
Young people could avoid being victimised online by protecting the information they shared about themselves and friends, he said.