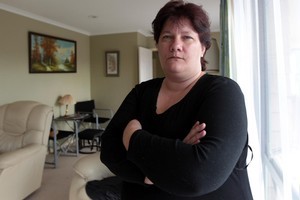 A popular weight loss company has been criticised for "picking and choosing" clients after rejecting a terminally ill woman.
Annalisa Lawford, 41, was diagnosed with breast cancer in 2008 which spread to her bones and spine.
The 111 operator from West Auckland said her medicine stabilised the cancer but caused severe weight gain.
She turned to Jenny Craig, where she had been a life member for more than four years, but was turned away.
Her frustrations grew when she read a Herald on Sunday story about former All Black captain and cancer survivor Buck Shelford, who lost 20kg with Jenny Craig's help.
"I don't see why they take on someone else in the public view who had cancer and it worked wonders for him, yet they haven't even considered me," said Lawford.
"Are they picking and choosing? Maybe I'm not famous enough for them?"
Jenny Craig managing director Amy Smith said her staff were not qualified to work with terminally ill people.
"We are not specialised to help provide the level of care that is needed ... Buck is a fit man and an athlete."
Lawford's doctor Marc Paton said her condition was not a health risk and she would benefit from the programme.
But Jenny Craig's general practitioner Dr Bill Mackey said he assessed Lawford's case and she needed specialised help from an oncologist or registered dietitian.
"She's a complex medical client ... we'd be doing them a huge injustice if we just took her money."
Mackey said accepting Lawford would be dangerous because Jenny Craig staff would not be able to tell if she was losing weight because of the diet or because of her treatment.
Cancer Society of New Zealand health promotion manager Dr Jan Pearson agreed Jenny Craig was unsuitable for people with cancer.