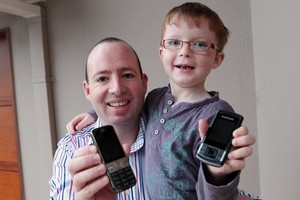 A boy born with a life-threatening condition is the face of a campaign for the hospital that saved him.
Ethan Rae was born with Wiskott-Aldrich syndrome, which damages the immune system and can trigger brain haemorrhages and leukaemia.
Now 6, Ethan was diagnosed only when his younger brother Oscar was born with the same syndrome. The only cure is a bone marrow transplant.
The brothers spent six weeks in isolation at Auckland's Starship children's hospital in 2007.
Their mother Susan donated bone marrow for Oscar, now 4, and a Belgian baby gave cord blood for Ethan.
The boys had chemotherapy before the transplants.
Now Ethan is the face of Starship's Bring a Phone to Work Day, being held on Thursday as part of World Environment Day.
Old cellphones will be refurbished and sold to developing countries as a fundraiser for the hospital's air ambulance service.