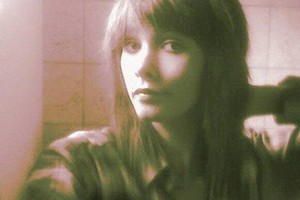 A teenager badly injured in a motorbike accident which also killed her best friend has battled back to pursue a dream to become New Zealand's Next Top Model.
Claudia Billinge, aged 16, is in the top 33 contestants going for the title in this year's competition, the Weekend Herald has learned.
On New Year's Eve 2007, the 13-year-old and her best friend, Daisy Fernandez, were hit by a 15-year-old motorcyclist riding without lights on Ripiro Beach in Northland.
Daisy died in hospital the next day.
Claudia suffered a broken leg and a shattered pelvis. She underwent extensive surgery to insert plates and screws to fix her pelvis - but has fought back from grief and injury to pursue her dream of modelling.

Daisy's father, Craig Fernandez, told the Weekend Herald he was ecstatic about Claudia's entry, because both she and his daughter had dreams of modelling.
"It's absolutely fantastic she's made it, just fantastic. I know [Daisy] would've been over the moon."
Mr Fernandez said he was not surprised that Claudia had done so well already, as she and Daisy had always been interested in anything to do with clothes, fashion, makeup, hair, and of course, modelling.
He said the two girls were like sisters and had known each other since they were 5.
"They were like peas in a pod. They loved dressing up and things like that, pretending to be models.
"Daisy loved to go sit in as a hair model, getting her hair styled. She was always going to be a model and live in Paris. That was her dream."
Mr Fernandez said it was still very hard knowing his daughter was no longer here, but wished Claudia all the best in the competition.
"It's just like yesterday. It's the little things that remind me that my daughter's not here."
A TV3 spokeswoman said that Claudia was in the top 33.
Judges were aware of her past but it was something Claudia did not want to go into in great detail, out of respect for her friend.
Her father, Mark Billinge, said he could not speak about his daughter's involvement with the competition as she had already signed a contract banning her from talking about it.
"There are very strict rules about speaking about it so I'm sorry, I can't say anything," Mr Billinge said.
Claudia, a student at Otumoetai College in Tauranga, has had a long interest in fashion and modelling.
Last year, she entered the Global Connexions Fashion and Art Competition for secondary schools in the Bay of Plenty.
She picked up second place in the Nurtured by Nature category and was highly commended by judges for her design for the Evening Wear category.
She has already completed some modelling jobs.
New Zealand's Next Top Model (cycle three) airs next Friday at 7.30pm on TV3.
moana.tapaleao@nzherald.co.nz