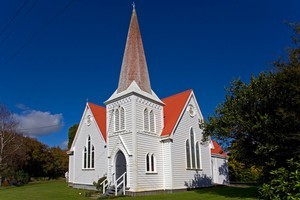 An old church south of Auckland with links to London's Big Ben may get protection as a historic place.
St Mary's Anglican Church in Pokeno, also known as St Mary on the Hill, was built in 1899 and its peal of three bells was cast by John Warner and Sons, the same company that cast the original Big Ben bell for the clock tower in the Palace of Westminster in London.
The New Zealand Historic Places Trust has publicly notified the old wooden church for recognition as a category 2 historic place.
Trust spokesman John O'Hare said the classification denoted a place of historical significance. A category 1 classification was a place of outstanding historical significance.
In the 111 years since it was built, the church has been used continuously for worship except for two years when it was closed in 1920 over a row about the stipend paid to the vicar.
The church was opened in 1900 and the £690 ($1385) cost of the building, which did not include fittings, was met by local philanthropist Harriet Johnston, who had moved into the area from Devon in England. She also donated the bells.
The foundation stone was laid in November 1899 and a paper sealed in a bottle beneath the stone, but later removed to hang in the nave, referred to Harriet Johnston's benefaction.
The paper said the church "was erected for the benefit of the residents of Pokeno, to be used for divine service, according to the rites of the Church of England and in the hope that the ministrations may be the means of bringing many souls nearer to Christ."
The Historic Places Trust's heritage adviser for the mid-northern region, Martin Jones, said St Mary's was a well preserved church which reflected attitudes to philanthropy among wealthy members of the local settler community.
Mr Jones said the only change to the church building since it opened was an extension to the porch in 1961.
"It still retains many of its early fittings and chattels and its rural setting," he said in his report on the registration of the church as a historic place.
He said many of the church fittings were lavish gifts from Harriet Johnston but at the opening the interior also included stained-glass windows, kauri pews, a font of Oamaru stone and a large Bible sent from England by a relative of Harriet Johnston
In 1901 it was described as the "finest church in the diocese".
The trust said the deadline for submissions on the proposed registration of the church was next Tuesday.
- NZPA