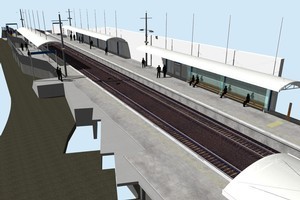 More than $2 million is being spent on new canopies to shelter rugby crowds and commuters at Kingsland railway station, on top of an earlier $6 million upgrade.
The $2.1 million cost of the four canopies, announced yesterday by Auckland Transport, is half that of building the station itself in 2005.
It will push the overall cost of the station, which had its platforms lengthened last year to take 1000 passengers at a time for rapid loading into trains after matches at neighbouring Eden Park, to just over $12 million.
Two of the canopies, one on each platform at the western end of the station, will be 36m long and two at the city end will be 18m. That compares with existing shelters which are just 12m long on each platform and which will be upgraded to the same style as the canopies after the Rugby World Cup.
Foundations are already being prepared for the canopies, which will be ready in time for a Bledisloe Cup test between Australia and New Zealand at Eden Park in August.
That fixture will provide the final dress rehearsal for World Cup transport arrangements. Auckland Transport spokesman Wally Thomas said the canopies would help to get large crowds on to trains and away from the station faster.
"Crowds tend to gather at one section of the platform around the existing shelters, but the new shelters mean they'll be spread more evenly."
His organisation expects about 15,000 spectators to use the station for Cup final matches, and is arranging for six-car trains to leave for Britomart from alternating platforms every five minutes.
It has also spent $1.3 million on upgrading nearby Morningside Station for fans travelling from West Auckland, and $1.2 million to bring the Strand Station in central Auckland out of mothballs in case of any emergencies restricting access to Britomart.
The Auckland Council is paying for the latest upgrade at Kingsland without a government subsidy.