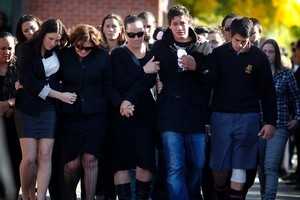 As the body of 17-year-old Shaun Nilson was carried to a waiting hearse, hundreds of his old schoolmates broke into a spine-tingling haka.
The Year 13 Hamilton Boys High School student died after the car he was in crashed into a power pole, then a tree, in Heaphy Tce early on Saturday morning.
He was thrown through the car's windscreen despite wearing a seatbelt.
The driver, another Boys High student, aged 16, was driving in breach of his restricted licence conditions.
Yesterday, hundreds of students crammed into the school hall to farewell Shaun in an hour-long service.
Dozens left messages on the simple white coffin, which was carried from the hall by family members wearing the motocross colours he used to ride in.
Many others needed comforting as the black hearse took his body away.
A family friend told the Herald his loss would be felt among his family for "a long, long time".
"He was just a happy-go-lucky kind of kid, just always happy and making others happy too."
The man said Shaun had planned to join the air force where he was going to study towards a mechanical engineering degree. He said Shaun was a keen motocross rider who had a sponsor but also liked playing social football.
"That was him though, he was never serious and didn't want to be serious, he was just a really good kid who made you laugh.
"Ask any one of those kids in there and they would have said the same thing - if you wanted to smile or laugh this is the guy you went to."
A school staff member said Shaun was a "cheeky little bugger" who took pride in the school's grounds and helped with its gardens. He said it was likely the school would plant a rose garden in his memory.
Meanwhile, overseas relatives of Lodewyk (Louis) Janssen, who died in a car accident near Morrinsville on Monday, are making their way to New Zealand for his funeral.
The Herald understands 65-year-old Mr Janssen moved to New Zealand in 1987 from the Netherlands with his wife Josephine, who died some years ago, and their two daughters.
He worked on several farms around the Waikato.
A cyclist who died in a crash in Hamilton on Wednesday was last night named as 57-year-old Thomas William Briggs.
Police said he was killed when he failed to give way at a roundabout at the intersection of River Rd and Wairere Drive and was hit by a truck that had the right of way.
The road toll of 120 is the lowest in more than 30 years.
However, the Waikato region, with 25 deaths, has more than double the Bay of Plenty, the next-highest region with 12 deaths.