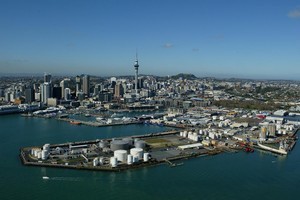 New Zealanders' love affair with property prices will be tested by the Super City's revaluation of 514,000 properties, says Valuer-General Neill Sullivan.
The country's top valuer yesterday said there could be some dramatic falls in coastal properties and dairy farms, but predicted modest movements in residential properties from the revaluation exercise.
Every residential, rural and commercial property in Auckland is currently being revalued by a team of 50 valuers from Auckland Council and Quotable Value New Zealand.
Mr Sullivan said while the exercise was the basis for setting rates from July next year, it had a wider impact.
"It is well known that Kiwis love property, they love property values, they are obsessed by it and our economy rocks and rolls a bit on it.
"It is almost over the top on a world standing.
"Property values go to the heart of so many issues. You can mess with people's health, you can mess with education, but if you touch their land rights or property values, look out," Mr Sullivan told the council's strategy and finance committee.
He said some people would object to their valuation and want it increased, even if that meant paying higher rates. Other people could lose the equity in their property from a fall in value.
Typically, about 2 per cent of property owners objected to the new valuations. That would be about 10,000 objections once people got theirs on October 25.
Orakei councillor Cameron Brewer said the largest rises would probably be in the suburbs of the old Auckland City because they had bounced back the most since the financial crisis.
While that was good for house sales, residents would have to brace themselves for rates increases greater than the regionwide average, he said.
Rating valuations are used to work out who pays what portion of the region's rates. Properties that rise in value more than the regionwide average pay more in rates, while those that fall below the average pay less.
Mr Sullivan said that because rates were based on property values, the exercise was done every three years to reflect the marketplace.
A mock revaluation in April found the residential sector - about 437,000 of the 514,000 properties - would likely have movements of plus or minus 10 per cent. Bigger swings are expected in the commercial and rural sectors.
Mr Sullivan said valuers would analyse the market on July 1, looking at factors such as sales and asking prices and talking with professionals.
It was not possible to visit all properties, but valuers had information on each and mass assessment techniques to help them.
The valuations will be used from July next year when the Auckland Council will introduce a common rating system across Auckland. This, combined with the new valuations, is a complex and challenging exercise that will create winners and losers.