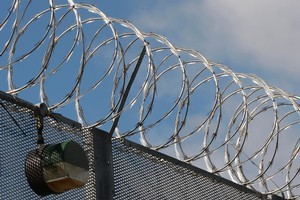 A former prison guard is now an inmate after admitting he took bribes for smuggling thousands of dollars worth of drugs, cigarettes, cell phones and even takeaway food, dental floss and cough lozenges to prisoners.
South African-born Johan Edwin Clarke was sentenced in the High Court at Wellington today to two years and three months behind bars on six counts of corruption.
He is the first Corrections officer in New Zealand to be convicted of such charges.
The 42-year-old Upper Hutt man was paid $2850 in cash for the contraband he took into Rimutaka Prison in Upper Hutt between November 2008 and May 2009. He also accepted a second-hand laptop and GPS system, three bottles of wine, and an arrangement to have sex with a woman.
Lawyer Michael Bott told Justice Stephen Kos that Clarke was now a broken man.
He had lost everything dear to him - his reputation, his marriage and family, his career and now his freedom.
But Justice Kos said Clarke had agreed to courier drugs, including methamphetamine and cannabis, to two inmates serving sentences for drug offending.
That deliberately placed the safety of other Corrections staff at risk.
It was a gross and serious breach of authority, which eroded public confidence.
And by supplying inmates with a cell phone and charger, Clarke had enabled criminals "to continue being criminals," said Justice Kos.
Such actions "undermine our penal system".
It was important to be able to trust public servants, particularly those in the prison and police services.
The judge dismissed a suggestion that Clarke had been frightened into smuggling goods into the jail, saying any intimidation was "little more than passive" and had not been reported to prison bosses.
Arrested in October 2009, Clarke had only pleaded guilty in April this year, just two weeks ahead of a scheduled trial.
Although the amount received in bribes was modest, he had sought to profit from his actions. Any sentence had to be a deterrent for others, Justice Kos said.
The court was told Clarke had had a good upbringing in South Africa, where he later worked in the ambulance service. He came to New Zealand to give his children a better chance in life - which, the judge said, he had "sabotaged".
Now separated from his wife, Clarke had been living in a sparsely furnished flat, doing an information technology course and working voluntarily for the Salvation Army.
Justice Kos said he was not satisfied that the man before him was truly remorseful.
"You stand on a precipice here today, Mr Clarke. You have fallen dreadfully from grace. You need to put the pieces of your life back together, starting very soon."
Outside the court Detective Inspector Darren Thompson said Clarke's sentence was a clear message that the courts would come down hard on anyone involved in such "back door" type of offending.
"I think most prison officers will be very happy today."
He would not spell out what action had been taken against the prisoners involved in the Rimutaka corruption case.
"Everybody who has had a part to play has been dealt with."
Mr Bott said the outcome for his client was sad but predictable, with a prison sentence being inevitable.
"He made a tremendous mistake and it weighs heavily on his shoulders."
- NZPA