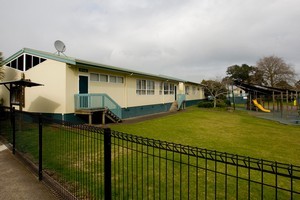 Local schools will be pitched into head-to-head competition if Monte Cecilia School is shifted to a Hillsborough church site, some members of its board say.
Five out of nine trustees oppose the Catholic Church's bid to rezone the St John Vianney Church site to take the school.
The church says a number of young families will send children to the relocated school and that it has the ministry's written authority for the move, which is prompted by Auckland Council wanting to add the school's site to the park around Pah Homestead.
However, some trustees told a hearing of planning commissioners that relocating the school 3km away would place the school in a different socio-economic area already served by two state schools.
Monte Cecilia's decile 6 rating would change to 2 or 3 in recognition of the lower socio-economic background.
Neighbouring schools Hay Park and Waikowhai Primary were within 600m of the proposed Hillsborough Rd site and the trustees feared saturation of the area and escalation of falling rolls.
Board treasurer Roger Shearer said many parents would not follow the school, which already ran on a tight budget with a roll of 185.
Uncertainty about the relocation - scheduled for 2016 - had slowed enrolments and it was possible to enrol a child in the current year with a capacity for 227 pupils.
He compared this with St Mary's Primary in Penrose-Ellerslie, which was so full it was not accepting applications for 2013.
Trustee Anthony Bonisch said the neighbouring state schools asked parents for only 10 per cent of the fees that Monte Cecilia parents paid.
"I am worried that local people will not be able to afford the $1000 a year fees per child plus uniform costs.
"Parents who cannot afford the fees will pick the state school ... if you have two, three or four children then it does become expensive. The area does not have the money."
Mr Bonisch said the new school could have a roll of only 100 pupils and would thus lose "great teachers".
Board deputy chairman Michael Jamieson said Monte Cecilia pupils came from a wide area.
About eight families of the St John Vianney Parish attended Monte Cecilia and a significant number to the decile 9 Halsey Drive School.
They had the choice of driving there and paying $175 a child, or travelling a similar distance to Monte Cecilia.
Parishioner and trustee Anne Nicholson asked: "Who is this [new] school for? Nobody knows because no catchment study has been done?"
The commissioners are expecting the applicant's right of reply this week.