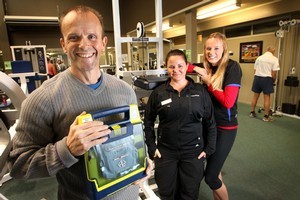 A Tauranga man just seconds from death after suffering a heart attack at a gym was saved only by quick-thinking staff members and a newly purchased defibrillator.
Yesterday, three personal trainers were honoured by the Red Cross for saving the life of Mark Walley.
It was 6.24pm on May 17, when Mr Walley, 47, suddenly collapsed while taking a breather between sets at the Ocean Blue Gym in Papamoa.
"The last thing I remember was sticking a pin in the weight stack. I didn't feel faint, I didn't feel dizzy, I was just gone."
When trainer Fiona Norton saw Mr Walley, she instantly put him in the recovery position and checked his breathing, only to find it had stopped.
Another trainer, Lynley McBride, gave him mouth-to-mouth resuscitation before Ms Norton took over and started CPR.
The third trainer, Marise Balogh, then carried over a defibrillator which had been at the gym for just 10 days.
"It analysed whether he needed a shock or not," Ms McBride said, "and it gave him shocks on two occasions when it found his heart wasn't beating.
"We never expected to have to use it - no one ever wants to be in a position where you have to - but it's great to know you can revert back to the techniques they teach you.
"I didn't think about how close it had come. I did go home afterwards, and then I became overwhelmed by it all."
Mr Walley was rushed to Tauranga Hospital by ambulance and then flown to Waikato Hospital's intensive care unit, where he came to at 12.40am on May 19 - 31 hours after the episode.
The father of two had shown no symptoms and had no family history of heart problems. His cholesterol and blood pressure were low and he was fit.
Cardiologists later told him he was "extremely lucky" to survive the freak heart attack, brought on by a clot caused by a tiny piece of plaque that came loose while he was exercising.
After a stay in Tauranga Hospital, Mr Walley returned to the gym for a reunion with his rescuers, who had all been on first-aid or defibrillator courses just days before his collapse.
"I'm the luckiest man alive, obviously. The way that everything stacked up in my favour ... the fact the machine had been in the gym 10 days, the fact they'd just been on a refresher course, it all means I'm here today.
"Without that I've got no doubt I wouldn't be here today. It's all still washing over me in great waves. It was a huge event for me. It's all so overwhelming, I'm still in shock about it - and I'm just thankful for each day."
Red Cross spokesman Marcus Bird said the case was a "prime example" of how crucial defibrillators could be.
"If you have a heart attack and the defibrillator is used within three minutes, the increase in survival rate is 70 per cent - that's massive."
A defibrillator is also credited with saving the life of 71-year-old Otago man Mike Chandler after he collapsed at a Naseby pub last week.