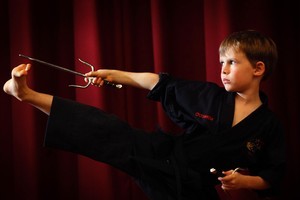 At just 1.27m in height, most people would probably not suspect Matthew O'Connor of being different from any other child.
But hand him an oriental weapon and you will see exactly why he's special.
The Auckland youngster has been awarded a first degree black belt in the Shaolin Kempo style of karate.
At only 8 years old, he is one of the youngest people - if not the youngest - to have received a black belt in Shaolin Kempo in New Zealand.
Internationally, in 2009, 5-year-old Varsha Vinod from India made headlines after she became the youngest person in the world to receive a black belt.
Matthew has studied the full adult syllabus in the Shaolin Kempo style during the past four years and is a member of the New Zealand national squad for American Kenpo 5.0.
He also holds a blue belt in American Kenpo 5.0.
Yesterday, he received his first degree black belt for Shaolin Kempo and will be able to study up to a 10th degree black belt.
Instructor Kevin Watts, a grade 7 black belt who runs the Browns Bay Shaolin Kempo School on the North Shore, said Matthew started taking classes when he was 4 years old.
"He's such an inspiring little kid. He's probably the size of most 5-year-olds ... but he's a little dynamo," Mr Watts said.
He added that he could easily take on an adult.
"I know he's floored his father once and I can attest that for a little boy, he can hit pretty hard - he can definitely look after himself."
Matthew entered Shaolin Kempo competitions at 5, and regularly spars with children sometimes twice his age.
The Year 4 student, who attends Murrays Bay School, has gained two Oceania Champion titles in the past two years and is hoping for a third in Australia in August.
He is training for the world championship competition next year.
Mr Watts said he was reluctant to train Matthew when he was first approached by his parents, but decided to give him a chance after they said he had taken a real interest.
Matthew is now known as one of the hardest-working students in the class.
Both his parents, John and Vicky O'Connor, studied martial arts in their 20s.
Mrs O'Connor, who also holds a black belt, said her son's self-discipline and respect for karate had seen him rise through the ranks so quickly.
"He likes to train with his shirt off and he likes to secretly think of himself as a mini Bruce Lee," she laughed.
Asked how tall Matthew was, she said: "Not very."
Mrs O'Connor said her son had learned to respect the philosophies of Shaolin Kempo and karate as a whole - something that was sometimes hard for young martial arts students to comprehend.
"He's the most unlikely kid to use it," she said. "He's very unassuming and gentle. He's not the kind of kid to go around doing it on other kids."
Matthew has applied for an AMP Scholarship in the hope of funding to help him head to competitions around the world and achieve his goals in Shaolin Kempo karate.
He says his goal is "to be a world and Olympic champion - oh, and I want to be like Bruce Lee".