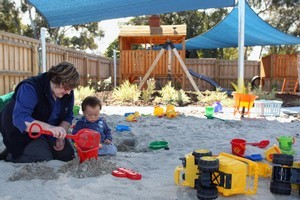 Parents wanting to return to the workforce should be better supported by employers - but those who are earning should also expect to pay more for childcare, says a review of early childhood education.
The review, which was set up last year at the request of Education Minister Anne Tolley, has recommended an overhaul of the funding system.
The new system should include a subsidy for 20 hours of care, it says, but should include strongly differentiated payments for special needs children and those from Maori, Pasifika, and low-income families.
The taskforce also recommends that working parents pay more and fee controls should be removed - meaning costs could go up for parents, especially those on higher incomes.
Sector groups have welcomed parts of the report, but there is concern some recommendations will dilute the 20 hours subsidy and leave parents and employers facing increased costs.
Labour's education spokeswoman, Sue Moroney, said the benefits of 20 hours would go if fee controls were removed.
"It's a great shame, because the taskforce report clearly sets out why early childhood education should be a top priority for Government funding, and has many excellent features to it.
"However, the National Government's insistence that they see it as a cost, not an investment, means that the taskforce has ended up recommending some backward measures."
Hayley Whitaker, spokeswoman for educational sector union NZEI, warned that targeting funding could mean a watering-down of 20 hours and introducing a more user-pays or part-subsidy model.
"Parents would be concerned to see any moves which would undermine universal and equal access to early childhood education."
Another focus in the report is on giving greater support for working parents, but that comes with a recommendation that "earning parents should expect to pay more for early childhood education where they can afford to".
The taskforce suggested there should be incentives for employers to help staff meet parental responsibilities when returning to work.
One way of doing that was combining existing subsidies from the Ministry of Social Development and Ministry of Education into a single payment.
Another suggestion was introducing "salary sacrifices" under which early childhood education would be provided in return for the employee accepting a lower salary, meaning they would avoid having to cover early childhood expenses out of after-tax earnings.
Taskforce chairman Dr Michael Mintrom said the Government spent $1.4 billion on early childhood education in the 2009/2010 year, more than ever before.
While the fiscal cost did not need to increase dramatically to implement the taskforce's recommendations, he said, "new financial commitments will need to be made by families, employers and others in society, as well as the Government".
The taskforce suggests the new model should encourage services to "prefer to enrol children with the most to gain" from early childhood education. "It needs to count financially whether a service enrols a child from a low or high socio-economic status family."
Any changes should be trialled and introduced in phases with the new mechanism implemented within four years.
Mrs Tolley welcomed the report, saying the "Government was concerned about the variability across services, the lack of accountability, poor access for many children, and the need for a more targeted funding system".
"It is heartening that these serious issues have been identified by the taskforce, and that positive suggestions have been made to deal with these areas of concern."
Mrs Tolley said some recommendations were being addressed but the Government would work through the others and consult on them shortly.
THE REVIEW
* The review recommends giving better support to help parents get back into the workforce.
* This could include employers helping by offering flexible hours and using technology that enables parents to work from home.
* It recommends working parents pay more and the removal of fee controls - meaning costs could go up for parents, especially those on higher incomes.
* It says a subsidy for 20 hours of care should be included.