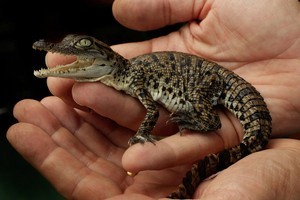 The first baby saltwater crocodiles to hatch in New Zealand broke out of their eggs yesterday morning at an Auckland sanctuary.
The six little snappers, which took approximately 80 days to hatch, were imported from the Northern Territory in a specially constructed pack and arrived at Butterfly Creek near Auckland Airport in April.
When it was time to begin the 20-hour hatching process, the reptiles made a small piercing in the shell which they popped their little, toothless heads out of - their teeth don't arrive until later.
The crocodiles were 28-30cm long, with the tail accounting for almost half their size.
Salties can can grow to 5.5m in length in the wild, and some have been measured at 7m.
The six new snappers joined Butterfly Creek's two adult crocodiles, five baby alligators, 750 tropical butterflies and 16 tarantulas.