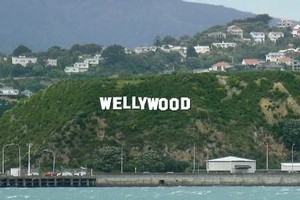 Controversial plans for a "Wellywood" sign on a Miramar hillside have been put on hold by Wellington Airport.
The airport has faced strong public backlash since announcing it was preparing to build the 30m sign on May 21.
A Facebook page, Wellingtonians Against the Wellywood Sign attracted more than 25,000 members, while the airport's own Facebook page was swamped with negative feedback.
Protesters attempted to blockade Wellington Airport and councillors voted 10-4 to abandon the sign.
Wellington Airport today said it had stopped work to construct the sign's lettering after taking that opposition on board.
It instead called for a panel to be formed to discuss other options for the site.
However, contracted preparatory work for a sign "of some description" on the hillside would continue.
Airport chief executive Steve Fitzgerald said the decision was about doing what was best to put Wellington on the map as an international tourism destination.
"We have listened to community views. We are inextricably linked to the Wellington economy and community, and we always strive to act in the best interests of Wellington."
The panel's membership and a draft terms of reference would be announced soon, Mr Fitzgerald said.
He said it was the airport's intention to allow Wellingtonians a chance to contribute towards a final decision.
"Wellingtonians are passionate about their city, so let's combine our passion to get Wellington's message to the world."
The airport will participate in the work of the panel as a facilitator, and will not vote on the options it presents.
- NZHERALD STAFF