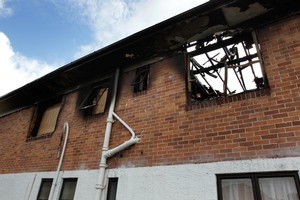 The Lal family didn't think it could get any worse when their home was damaged by fire two weeks ago - until the house was ransacked by thieves who then destroyed it by setting another fire.
A suspected electrical fire forced Sheila Lal and her children Danisha, 19, and Devesh, 15, into a motel, but they were hoping to eventually return to the home that had been in the family for 23 years.
But early yesterday morning a fire was deliberately started after the place was raided by thieves and vandalised.
Graffiti and tags were sprayed on the walls, and drawers were emptied of jewellery and other valuables.
A fire was started in a bedroom, spread to the roof and engulfed the two-storey house.
Seeing the damage up close was devastating, Mrs Lal said. "It's completely destroyed. Everything".
They hadn't been able to get many of their belongings out after the first fire.
"We were waiting for the [insurance] assessment and everything and just for this to happen ... How do you do that? I can't believe it."
She told the Herald the house, in Richardson Rd, Mt Roskill, was boarded up after the first fire, but that didn't stop whoever got in.
"I tell you what this has nearly destroyed our family. We're exhausted ... been up since 2am."
A neighbour phoned with the news and she went straight to the house.
"I was a mess, a total mess. I was barely able to drive there," she said.
The road was shut as police and firefighters attended the scene.
When she saw the blaze she couldn't even think.
"I was too numb. The police and everyone was there so it was already taken care of. I just couldn't react."
But an even bigger shock was awaiting her.
"It was later in the afternoon when the investigator took us through to look at it and that's what really destroyed us.
Having the first one and this one is too much. I find it really hard to come to terms with it."
Family photos - including those of her late husband who died three years ago - were gone, as were other irreplaceable things like photos and gifts from her oldest daughter Vanita's recent wedding.
"It was only two months ago. All wedding memories in there, all the gifts ... There's nothing to salvage. It's all gone and if not they've taken it. They've turned everything upside down."
Mrs Lal does work with Victim Support and was now on the receiving end of their help. "It's different being on the other side as a victim."
She didn't know if she would rebuild. "I couldn't even think at the moment. I'm too numb to put any thoughts into it."
Senior fire safety officer Roy Warren said multiple 111 calls were received at 1.41am.
"It was quite a large fire. About half the house was destroyed on the upper level."