Featured above are the stories of several of the homeowners near Eden Park, and at the end of the story more talk about their cup plans.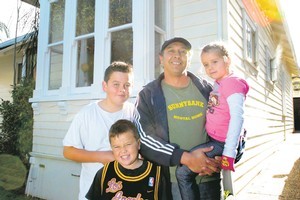 It is billed as the biggest sporting event to be held in New Zealand, and for residents of three Auckland streets it will literally be on their doorstep.
The Herald canvassed every home on the streets bordering Eden Park - Reimers Ave, Cricket Ave and Walters Rd - to discover what impact residents felt the cup would have on their day-to-day lives.
While the nearby Bond Street lodge has raised its rates by up to 1000 per cent for the cup, only one of the 60 homes on the streets canvassed has been rented to overseas visitors.
Rob Cobb secured a short-term rental that would net him $10,000 - for nine nights.
"We're renting and using it to pay for a holiday.
"We'll go skiing then I'm flying my family up to Bali. We couldn't afford to pay for that sort of holiday at other times," Mr Cobb said.
He had found the tenant - an Australian man living in New York - through his contacts, he said.
"To be fair, I put it on a website and I got two hits. So I used LinkedIn and my friends' networks overseas."
Eddie and Adele Reid are looking to rent their home, and said they thought the rush would come at the last minute.
"The perfect thing would be to rent it out and somehow get tickets in return," Mr Reid said.
Wings Trust, which runs addiction rehabilitation programmes in a few houses near Eden Park, is also considering renting out some of its residences to Rugby World Cup visitors.
"If the market is very short maybe we can do a deal with someone. If we don't, it's just business as usual," said executive trustee Mike Lomas.
"I think maybe a lot of people may be wanting to rent closer to the city because that's where the action is."
Other residents have decided against renting out their homes after realising the work and risks involved.
Aaron Turk summed up much of the sentiment: "It's not as good as you think by the time you weigh up the tax on the money that comes in, plus paying any commission, all the bond and any damage that happens."
Simon Edbrooke said he had nowhere to shift his young family.
"Rents will be up during that time. You would really only want to set it up for the full six-week block, rather than three or four groups coming and going."
Denise Bijoux and her family could stay with other family members during the tournament, but she has received no "serious" offers despite advertising the house online.
She has sought between $7000 and $10,000 a week during the cup.
Roadwork cones lined the streets when the Herald visited, and many residents expressed dissatisfaction with the disruptions the cup has brought and will bring.
Alley Miller has had drunken spectators jumping on her children's trampoline. She wants to get away from the tournament, but she said she had put up with five years of disruptions - including burglaries, non-stop building noise and fast-food wrappers scattered around her lawn by construction workers.
"You would hate to move out when the World Cup finally comes."
Mr Turk said he was considering a Coromandel holiday to get away from the cup, and Frank Guzo said recent game days had been "diabolical".
But for other residents whose address fits their passion for the game, the disruption is a small price to pay.
Stephen Farrell's wife said they had moved into their Reimers Ave house to satisfy his rugby addiction, and he would follow the Irish team around New Zealand.
On the same street, Bronwyn Houliston said her father would return from Singapore for the tournament.
"I'm sure he bought the house with the hope that one day this would happen," she said.
Other residents will be joining in on the excitement even if they cannot afford to buy tickets - and almost half the residents said they could not.
Denise, on Cricket Ave, said she planned to stand outside her house to soak up the atmosphere.
"I'm only 50 metres away from the stands, and with a drink in one hand and radio in the other it's like being there.
"It might be bedlam but I don't mind it being bedlam for a short time in my life."
Additional houses:
90 Sandringham Rd. Eric Catherwod.
Rental tenant will stay during the tournament.
1 Reimers Ave.
Will be overseas for one week but will not rent out. "Don't fancy a bunch of English dudes ripping the place up."
7 Reimers Ave. Claire Bourke.
Just sold their house to move to Whangarei. Not because of the Cup, "but we don't really want to be here, either". Of all the people who viewed the property, only one mentioned the World Cup.
9 Reimers Ave. Wings Trust addiction rehabilitation house. Considering renting to visitors during the tournament.
11 Reimers Ave. Bede McCarthy.
Staying for the tournament.
13 Reimers Ave. Tenants hope to stay through tournament, but whether they will be allowed to "is a definite concern."
15 Reimers Ave. Aaron Turk. Has considered renting out the house, but it did not seem worth it "by the time I weigh up the tax on the money that comes in, plus paying commission, and there's all the bond
and damage and anything else that happens as well". Might take a holiday to the Coromandel during Cup.
17 Reimers Ave. Denise Bijoux.
Has listed the home on two websites for months but has had no serious offers.
21 Reimers Ave. Mark Darrah.
"My wife's going away and I'm going to all the games."
1/25 Reimers Ave. Martin King.
Lease ends in June but has verbally agreed that it will just keep going, and he will stay out of convenience. Said of the World Cup:
"I hope it's not lame - it will be really embarrassing for everyone if it is."
25 Reimers Ave. Lambert. Will go overseas to Japan for a month during the Cup, "just to get away from it".
27 Reimers Ave. Simon Edbrooke. "People have been suggesting we rent the house out ... It'stempting, but it's such a hassle - the thing
is, where do you go?"
29 Reimers Ave. Nicole Keddie.
"Our baby is just coming up to one year so it's about how we're going to manage it. It's a big [hassle] having a young family and moving us out for a short term."
33 Reimers Ave. Helen. Will stay, but recently had the rent put up - "hard to say whether it was World Cup-related".
1/35 Reimers Ave. Ingrid McNiven. A huge rugby fan and has tickets. Has had a lot of people tapping her on the shoulder to stay.
2/35 Reimers Ave. Chang Pong.
Will be staying because "it's not worth moving out".
37 Reimers Ave. Staying.
39 Reimers Ave. Anita Dheda.
Husband going to games but "I'm not excited - come on, it's rugby". Will not rent out home.
38A Bellwood Ave. "Just working - the same as normal."
38 Bellwood Ave. Staying and going to some matches.
2A Cricket Ave. Mark Rowlands.
Rental tenant will stay through the tournament. Is sick of the work on the footpath outside - which he says has been
going on for about six months.
6 Cricket Ave.
Property vacated by Eden Park for renovations.
14 Cricket Ave. Staying.
16 Cricket Ave. Property vacated by Eden Park for renovations.
2/26 Walters Rd. Rebecca Millar.
"We probably don't want to be here for [the kids] trying to sleep at night. It's the last 10 days that I'm concerned about ... there will
be a different type of atmosphere."
23 Walters Rd. Justine. Not renting out.
29 Walters Rd. Blair Woodbury.
Staying and going to a couple of games. Has two young children. "I'd say we're nervous about it and the impact it's going to
have on our life."
31 Walters Rd. Albie Herron. "We'll try to get to some games ... and some mates will probably spend the night."
35 Walters Rd. "We've just moved in. We don't have plans to rent the house out."
37 Walters Rd. Robin Hargrave.
Bought the property with six other guys for car parking and drinks before matches. "We'll be selling it afterwards."
43 Walters Rd. Wings Trust rehabilitation office. "Our programmes will continue."
45 Walters Rd. Naomi Marshall.
"I won't [rent the house out] but my dad is coming down from up north. And my brother. I might abandon the house to them. It could be a bit much."
49 Walters Rd. Gina Day. Will watch every match with husband. "We have three sets of tickets to all the pool games and the finals."
51 Walters Rd. Anna Meikle.
"Rugby buffs" in the flat likely to go to matches. matches. "We were a bit worried about having to move out but I think it should be fine."
59 Walters Rd.
Rugby World Cup office.
64 Walters Rd. Neighbours say the resident keeps to himself.