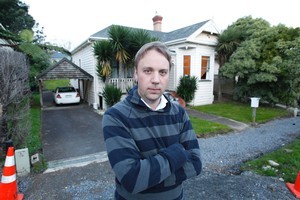 Tenants around Eden Park have coped with uncertainty since Eden Park was designated the World Cup's main venue.
"We were a bit worried about having to move out," said Anna Meikle, of Walters Rd.
But most landlords have agreed to extend tenancies through the tournament rather than push out residents for inflated short-term rentals during the tournament - with a few exceptions.
The Eden Park Trust, which owns several houses near the stadium, has gradually emptied out a set of flats on Cricket Ave since proposing to put tournament sponsors' offices in them late last year.
The trust applied for resource consent in November, and in the six months since then, three flats have been vacated and the tenant in a fourth has been served an eviction notice.
The resource consent application remained on hold during the whole period.
"We're getting evicted by Eden Park Trust. The flat is going to be made into offices," said a resident, Hayley, who did not want to give her last name. "We have until June 29 ... I'm not surprised or anything. I'm just looking for a new place."
The property managers for the houses say Hayley's house - and the other vacated ones - were due for repairs and upgrades.
"It's just tenants making assumptions, I believe," said Barfoot and Thompson rental operations manager Helen Hodgson.
After Herald inquiries, tenants were notified that the trust had cancelled its plan to put offices in their flats, but Hayley's eviction notice remains in force.
On Reimers Ave, a woman who wished to remain anonymous said she was "definitely concerned" about her tenancy.
Martin King, down the road, said he had a verbal agreement with his landlord that his lease would continue through the tournament.
"But it wouldn't surprise me if we got kicked out," Mr King said.
Jeevan Tamang has chosen to take a short-term lease under which he will leave by the end of August.
- Staff reporters