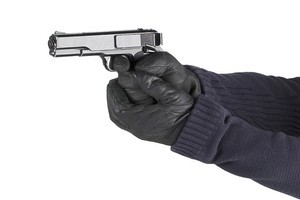 Police fear a pistol-wielding teenager who tried to hold up a Hastings dairy yesterday may strike again.
Several city blocks were cordoned off during a four-hour manhunt yesterday, but the Armed Offenders Squad and police dog handlers were unable to find the teen.
The offender had run into the Karamu Rd Dairy just after noon, holding the weapon. A woman serving behind the counter set off a security alarm, and he fled on foot without taking anything.
The dairy owner would not comment but said a shot was fired as the teen ran down Karamu Rd.
Hastings Detective Sergeant Warren Murdoch said a witness had also reported hearing a shot fired outside the store.
Police were concerned the offender may strike again after fleeing the dairy empty-handed, he said.
"It could be that he strikes again if he's desperate for cash - but then again we're not sure what his motivation was.
"We still definitely consider him dangerous because we've got an outstanding firearm."
Mr Murdoch couldn't confirm what the offender had demanded.
"We're looking at the dairy's camera footage today and will continue to speak to witnesses."
The offender was described as European, in his mid to late teens, and was wearing a grey hoodie and light-coloured jeans.
Police said he was dangerous and should not be approached.
Motel owner Paul Cropper was among onlookers to join the chase after hearing the dairy's panic alarm.
He saw the offender, who was holding a pistol, and followed him through a neighbouring motel, where owner Martin Pederson also joined the chase.
"Martin chased him and ended up passing me. A guy in a car stopped and said, 'Come on let's follow him'."
The pair drove after the offender but lost him as he ran through private properties.
Another neighbour, who did not want to be named, heard the alarm sounding and rushed to see what was happening.
"When she pushed the panic button, I heard it and just ran," he said.
"I ran past the shop and I saw the woman's husband was yelling and pointing down the road. I saw the man and followed him into the motel next door - then he just disappeared."
Security guards arrived on the scene shortly afterwards, he said, and a few minutes after the robbery, the "visibly shaken" woman was behind the counter serving customers.
"It's pretty tough for her, but she was very calm for a lady that had been threatened with a gun," the neighbour said.
Mr Murdoch described the female worker's actions as "pretty gutsy".
"She's doing really good actually, given what she went through."
The dairy had been the target of several recent robberies.
A man was arrested last year after entering the Karamu Rd Dairy with a machete, threatening the woman shop attendant and making off with the cash register. He was later caught by police at a Mayfair address.
Earlier last year another attempted robbery was foiled when a man who stole a packet of tobacco was chased and caught by the dairy owner.
"Given it's on one of the main roads out of town and has motels situated close by you'd think it would be less likely to be hit - it's a bit of a mystery," Mr Murdoch said.
For more articles from this region, go to Hawkes Bay Today