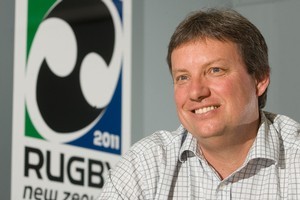 In 100 days the biggest sporting event in New Zealand's history gets under way. The RWC 2011 hosting rights were won on the back of international recognition that rugby, and the All Blacks, have long held a special place in the heart of our country and that, because of this, our hosting of this event will be unique and memorable.
Come kick-off time we will be ready to welcome the rugby world. The foundations now in place for the 20-team, 48-match tournament that will take place across 12 stadiums are strong. We will not let people down.
Over the past 12 months, even at the very highest levels, rugby has returned to being a game of "ball in hand" and the signs are that this tournament will be one punctuated by many on-field exciting moments.
And it won't just be the top five or six teams in genuine contention to win the Webb Ellis Cup taking centre-stage. Some of the minnows will cause huge anxiety for their better-ranked opponents and will become darlings of the media and public.
It is that widespread community connection which will lift this tournament into something special. The 24 towns and cities hosting the teams, when their turn comes, will embrace and care for those teams and the players themselves will reciprocate by welcoming that show of support.
Communities up and down the land are preparing to welcome our visitors. Northland has a "Paint it Red" campaign to welcome Canada, Japan and Tonga. Down in Southland, a small rural school at Limehills has one class adopting Scotland, the other Argentina.
Our Stadium of Four Million is coming alive.
Wrapped around all of this is the REAL New Zealand Festival where communities all over New Zealand are making sure that, outside of the rugby, visitors will see the best of what our country has to offer.
Ultimately it is the people of New Zealand who will determine the success or otherwise of RWC 2011. If we all genuinely welcome and look after all our international guests brilliantly, if we find the right balance between supporting our team and enjoying the efforts of the other 19, then I'm positive everything will come together to make this a proud moment for our country.
Martin Snedden is the CEO of Rugby New Zealand 2011