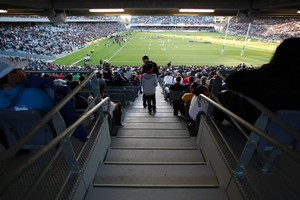 Authorities hope at least 3000 rugby fans will walk an official "Fan Trail" from Queen St to Eden Park before each match, in part to reduce congestion during the World Cup.
The 4.5km route will start at Queen Elizabeth Square opposite Britomart, head up Queen St, along Karangahape and Great North Rds, before crossing the Bond St bridge and ending at Eden Park.
Rachael Dacy, chairwoman of the Auckland 2011 group organising the walk, said the trail would be about more than getting to or from games.
"It will build upon the World Cup experience - it will be quite an entertainment experience prior to the match."
Putting on the walk for all 11 of Auckland's matches will cost the council $550,000, not including upgrades along the route that have been brought forward in time for the Cup.
Three hours before each match the route will "come alive" with temporary food and beverage stalls, live music and art installations.
Ms Dacy said the trail could be walked briskly in 40 minutes, but most fans would take longer, stopping to enjoy the entertainment and a drink or something to eat.
A similar walk in Cape Town during the Football World Cup was hugely successful. During peak times 60,000 people used the walk per hour, with many non-ticket holders joining in to soak up the atmosphere.
"I have had some questions around [whether] Aucklanders walk that far, but certainly internationals will embrace it," Ms Dacy said.
The Cape Town walk featured everything from buskers to light shows and similar activities are promised here.
Auckland's trail will largely depend on buy-in from businesses along Queen St and K Rd, but some are concerned about how involved they will be allowed to be.
Eddie Almacy, co-owner of K Rd's Little Turkish Cafe, said his customers used to sit on streetside tables late into the night, but now if they did so past midnight the police were called.
Mr Almacy believes for the event to be successful the council must be flexible enough to allow a festival atmosphere to flourish.
Another business manager said she had been fined for having live music in her store and hoped such events would be allowed during the Cup.
"We want to support businesses to consider what they can do to maximise the tournament," Ms Dacy assured. "In saying that, there are regulatory processes to adhere to."
Though there would be security for fans to walk back from the matches, the focus was on the pre-match experience. "We need to acknowledge that there are residences along the route".
Traffic will not be stopped along the trail, except on roads surrounding Eden Park, but Ms Dacy said that wouldn't prove dangerous, saying the footpaths were wide enough to accommodate more than 5000 people walking the route.
It will take visitors past some scenic areas - such as Myers Park and St Kevin's Arcade - but also some that are not so easy on the eye. The overpass on K Rd is being redone, and Ms Dacy concedes the Great North Rd stretch is "a bit of a drier spot".
"It's a great destination if you were wanting to purchase a car, so we've focused quite heavily on temporary installations in that area."
And though she denies the trail will be used primarily as a pub crawl, Ms Dacy said there would be plenty of toilet stops along the way.
"That's normally the first thing I get asked. There will definitely be amenity stops."