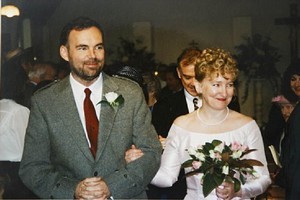 Malcolm Webster, convicted of murdering his first wife and trying to kill his second in New Zealand, is now facing allegations of killing three babies in a hospital.
Police in Scotland say they will investigate claims linking Webster to the suspicious deaths in an Abu Dhabi hospital, where he worked as a nurse.
Webster was at the hospital for six months before being fired after the three special-needs children, all under 6 years old, died of heart attacks while he was on duty.
Detectives in Aberdeen are considering the possibility that Webster experimented on the children to see how different drug doses would affect them.
The Aberdeen Press and Journal said police were looking at whether the anti-epilepsy drug clonazepam was involved in the deaths.
Webster was suspended hours after the third death, but no charges were brought.
"It is ... claimed Webster may have 'experimented' on the children, possibly drugging them to induce heart attacks," Scotland on Sunday reported.
Former paediatric nurse Elizabeth Brown, who worked with Webster at the hospital, said coverage of his trial had brought back memories of "strange incidents" on the ward.
"He left under a cloud. He was suspected of harming some of the children," Ms Brown told Scotland on Sunday.
Five years later, Webster drugged his first wife and killed her in a fake car crash.
He met New Zealander Felicity Drumm two years after the murder while they were both working at a hospital in Saudi Arabia.
They married and came to live in Auckland, where Webster tried to drive Ms Drumm into a power pole on the Northwestern Motorway in 1999.
She managed to grab the steering wheel at the last second.
A can of petrol was found in the boot, a cigarette lighter was inside the car, and British insurance policies worth hundreds of thousands of pounds with forged signatures were found in Webster's bedroom.
Ms Drumm described her husband as a "psychopath".
She told TVNZ's Sunday that during their honeymoon in New Zealand and while they were living in the UK, Webster repeatedly drugged her food and drink, even when she was pregnant with their son.
"I'm outraged that I was pregnant at the time and that he was knowingly giving me medication that could have harmed our child," she said.
"I think he's a psychopath, and things, possessions and people are expendable if they meet his ultimate need.
"I think there was a huge element of control. I think he drugged me because he could, and he got off on that somehow.
"It was a game to him - on a whim he could put me to sleep."
During Webster's murder trial, Crown prosecutor Derek Ogg, QC, called him one of "the most notorious murderers of our modern times".
Ms Drumm's sister, family violence expert Jane Drumm, said his guilty verdict this month meant justice had been served.
Webster, 52, will be facing a life prison term when he is sentenced in the High Court at Glasgow.
- additional reporting by NZPA