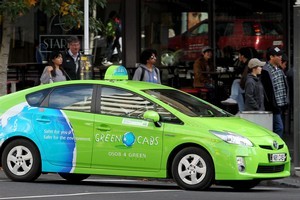 A taxi company which promotes its clean, green image has been fined for failing to ensure its drivers provided a safe and secure service for the public.
Some Green Cab drivers worked excessive hours - more than 13 hours a day - risking fatigue-related crashes, said the Transport Agency.
Green Cabs Ltd - which runs petrol-electric Toyota Prius fleets in Auckland, Wellington and Christchurch - was fined $6300 in the Auckland District Court after admitting four charges of breaching transport licensing rules.
The Transport Agency believes the fines will send a message to the taxi industry to shape up for the Rugby World Cup, although it says general standards have improved considerably in recent years.
The agency's Auckland area access and use manager, Andy Thackwray, said yesterday that three of the charges against Green Cabs related to failing to provide a 24-hour service seven days a week, and the fourth to not maintaining control over its drivers.
The company prides itself on running fully hybrid fuel-efficient taxi fleets, and on off-setting carbon emissions by supporting tree-planting charity schemes in Africa and Asia.
It says on its website that it has planted 40,000 trees through sponsored villages in Senegal, Ethiopia and the Philippines.
But it appears to have reduced its emissions to zero on many occasions in 2009, when Mr Thackwray said Green Cab taxis were not on Auckland roads.
He said that 48 times over three months from April of that year the company had no vehicles available to carry passengers. In one case the service gap was eight hours.
At other times, drivers worked excessive hours to make up for staff shortages, and the company did not have a roster for them.
He said the Transport Agency had no problems with the company's green claims.
"It's not the performance of the vehicles that is in question here - it's the performance of the company and the way it failed to maintain adequate control over its drivers."
Drivers had been working as they saw fit and the company appeared to have taken no steps to ensure they followed any set hours.
Some worked more than the maximum of 13 hours a day allowed by law, increasing chances of fatigue-related crashes and endangering them, their passengers and other road users.
Although the offences occurred two years ago, Mr Thackwray said the fines imposed this month sent a clear and simple message to the taxi industry before the Rugby World Cup.
"For many thousands of visiting rugby fans, the door to a taxi is likely to be the first they will open when they arrive in New Zealand," he said.
"This court case will help ensure that they will be able to do so with confidence in the taxi industry and its drivers."
The company's management did not return calls from the Herald.
It has operated in Auckland since late 2007.
The Transport Agency reported in April that Auckland's taxi industry had improved significantly since four years ago, when faults were found in nine out of every 10 cabs inspected, compared with only one now.