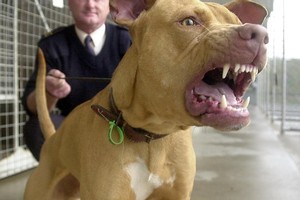 Two small girls suffered terrible facial injuries in separate dog attacks yesterday, sparking fresh calls to ban dangerous breeds.
A 2-year-old girl is this morning having surgery at Whakatane Hospital to repair her face after being savaged by a dog believed to be a pitbull yesterday afternoon.
Hours earlier, a 4-year-old girl was viciously attacked by a bull mastiff. She faces multiple operations to rebuild her face.
In both cases, the girls were visiting family members with parents when they were attacked by pets.
The attacks cap a string of horror maulings in the past 10 days, including one which left a Bay of Plenty woman scalped.
Other attacks saw a woman set upon by a pack of pigdogs and a rescue of a baby girl by her 5-year-old sister when a pitbull invaded their home.
The incidents prompted Local Government Minister Rodney Hide to pledge a reform of dog control laws before the November election.
And the father of dog-attack victim Carolina Anderson - whose suffering led to the first major reform of dog-control laws - last night called for dangerous breeds to be banned.
"How can anyone justify having a dog known to be an aggressive breed?" John Anderson asked.
The day of savagery began in Masterton during a family visit on Miriam St about 11.30am. A girl, 4, was attacked as she patted the family bull mastiff.
Police said at the moment of the attack the girl was being supervised by an adult.
Acting sergeant Tony Matheson said: "The dog pinned the girl to the ground, biting her face. Family came to her rescue." He said she suffered "significant lacerations on both sides of her face" and last night had surgery at Hutt Valley Hospital.
"They're all pretty upset. The responsibility comes back to the owner."
After the attack, the family put the dog in the garage where it was later collected by a dog control officer. Masterton District Council chief executive Wes Ten Hove said the dog would be put down.
"Big dogs, small children - any animal behaviourist will tell you it's a risk. We're immensely sympathetic with the young lass and her family."
In Whakatane Hospital, a 2-year-old girl was this morning expected to go into surgery after a dog attack in Kawerau about 2.30pm yesterday.
Emergency department doctor Dr Marius Keyser said the girl was last night in a stable condition and her family was at her bedside. "It's traumatic for all of them." Police had visited and taken photos of the girl's injuries.
Kawerau Mayor Malcolm Campbell said the girl was visiting a home in Newall St with her mother when she was attacked by a dog that lived there.
The mother called for an ambulance then bundled the girl into a car, driving towards Whakatane Hospital. Ambulance staff met the car en route.
A dog control officer was called and the dog was taken to the local pound. Its fate was uncertain.
Campbell said the girl's parents did not want the dog put down at this stage.
Hide said dog control laws were failing to protect the public and promised to review them.
"I want to get it started before the election to get some momentum behind it.
"These two nasty attacks highlight the need for a decent review rather than constant kneejerk political reactions."
Hide said the laws imposed burdens on responsible dog owners but did not sufficiently punish irresponsible ones.
Anderson said he would ban all breeds known to be dangerous and ensure cross-breeds with dangerous parentage were bred out.
"It's difficult to reason with the attitude that there are no bad dogs. If it's not the animal, why don't we have tigers and lions as pets?"
- Additional reporting: Chloe Johnson and Andre Hueber