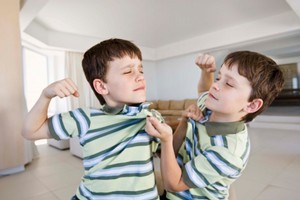 Marauding bands of little boys are fighting, kicking and hitting their way through childcare centres - thanks in part to playing video games with their dads.
That's the view of Dame Lesley Max, chief executive of Auckland-based family service Great Potentials.
Max told the Early Childhood Council's annual conference in Wellington yesterday she knew of early childcare centres where boys' fighting, kicking and hitting was a big problem.
"I'm hearing from centres where children - little boys - who spend long hours sitting in front of PlayStation with their fathers, like a whole weekend in front of the PlayStation playing violent games, come into centres and re-enact [the violent games]."
She said a boy at one centre suffered black eyes and bite marks.
"There's a whole lot of environmental factors, it's not one thing or another, but they're combining to cause concern and we need to look at how centres and parents can work together to address these issues."
One mother had told her of a "survival-of-the-fittest mentality" among the boys at her child's centre.
"Some people describe them as marauding boys, 4-year-olds particularly. It's very, very difficult for the staff to deal with."
She agreed some parents had no choice but to place their children in childcare while they worked, but many parents chose to do so.
"I know of a little boy who was desperate for more of his mother's time, just desperate.
"He made it clear that he was sad. Then his mother went from working five days a week to six days a week, in order to pay off a red BMW car."
She said some parents placed their children into care at horrifyingly young ages and "the non-attached or shakily-attached child" grew up to be a "fairly dangerous person".
Early Childhood Council chief executive Peter Reynolds said the issues were complex, but video game-related violence wasn't a huge issue.
"Children soak up their experience like sponges. You've got to take into account the wider environment, particularly in low socio-economic environments where children are not accessing quality early childhood education."
Reynolds said we may be noticing or reporting video game-related violence more frequently.
Attempts to contact Sony, which makes PlayStations, were unsuccessful.