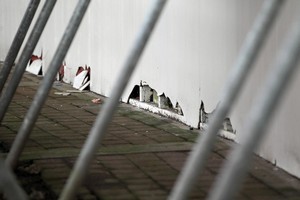 Mt Smart Stadium urgently needs a $2.3 million funding boost to fix rusting stands or it may not be able to host some events in coming years.
The home of the Warriors has fallen into disrepair and presents "significant health and safety risks to users of the venue", according to an official report to the Auckland Council.
The stadium's seating is held together by rusting bolts, steps have chipped, jagged edges, and the carpark needs resurfacing.
Regional Facilities Auckland chief executive John Brockies admitted there was corrosion in the roof of the west stand.
There was a chance that if no renewal work was done, Mt Smart would not be fit for rugby league games or events such as the Big Day Out.
"We have a responsibility to the Warriors to ensure that Mt Smart is fit for its tenants," Brockies said.
Mt Smart became the home of rugby league after Carlaw Park was shut in 2002 for health and safety reasons.
Warriors chief executive Wayne Scurrah said there was no immediate risk to fans at Mt Smart. "We're well aware of those issues. Long term these need to be addressed," he said. "Of course we would like a better venue but that's not the only consideration."
The Warriors attracted 38,000 fans for their season opener at Eden Park. Last week's match at Mt Smart drew a crowd of 17,000. But Scurrah said there were no immediate plans to move their base to Eden Park.
"We have had one game there, it was a one-off. I cannot see us getting that kind of crowd every game."
Brockies assured stadium-goers there was no immediate risk. He said things like broken chairs were replaced out of the operating budget but the stadium needed renewal work over the next two or three years to ensure the health and safety risks did not become hazards.
"The current level of budget won't be enough to meet the needs of the facilities over the next two to three years.
"The immediate concern is if we don't commit to a programme of renewal we will see a progressive deterioration in which some health and safety risks will be unacceptable."
Newly-elected Auckland City councillor and Warriors season ticket holder Dick Quax said he hoped the stadium would survive. Mt Smart held a "very special place" for him.
"I would hate to see it not being used as a sporting venue."
Mayor Len Brown said the council was aware of the issue. "The matter is being dealt in an appropriate manner by Auckland Council and Regional Facilities Auckland," he said. "We will not allow the safety of players or the public to be put at risk."