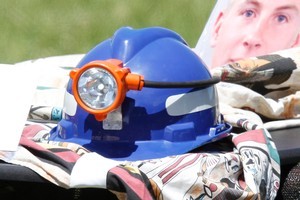 The bodies of the Pike River miners should be left where they are; in a tomb that does honour to their lives. There could be no more fitting memorial.
The recovery plan announced this week seems driven by a misplaced desire to do something positive, to conclude a story that so far has been one of disappointment and failure at every turn. But it is the wrong move.
We know a funeral is not for the person in the casket. It is for those standing around it.
And it is terrible not to have a body to mourn but not uncommon. The battlefields of Europe, the oceans and even the centre of Christchurch contain the remains of many Kiwis who had to rest where they perished. Those left behind grieve in a different way but they can grieve and do it well.
The Prime Minister, among others, has said cost will not be an issue. Certainly, money should be the least of our concerns in a time like this.
But, equally certainly, the dead men would be better honoured if that money were put into the Pike River community to help keep it alive.
The miners' deaths remind us that in an age where most of us live and work in comfort, there are still people doing dirty and dangerous jobs. As a community we need to acknowledge that. One way to do so is by allowing men who lived, worked and died together to rest in peace together.
Facebook for under 13s
Facebook Founder Mark Zuckerberg's suggestion that children under 13 should be allowed to sign up to his social-networking site was met with cautious enthusiasm by local children's advocates. They acknowledged many in that age group had already signed up using fake details.
I hadn't caught up with the fact that "they're already doing it" is now a good reason for letting kids do anything.
Zuckerberg said, apparently with a straight face, that having a Facebook page was important for their education.
This is not about educating children, it's about making more money for Facebook. The website earns its revenue by collecting personal data and selling advertising. The 600 million current members are apparently not earning their keep.
Like most web-based billionaires, Zuckerberg hates competition, in this case existing social media sites for youngsters such as habbo.co.uk with 134 million users.
He's also vague on how his system of child safety checks will work. "Because of the restrictions we haven't even begun this learning process," he said. "If they're lifted then we'd start to learn what works."
In other words: "Open the floodgates and then I'll start looking for a mop."
Wellywood
The Wellywood sign has resource consent for five years. Its opponents must regret it is not planned for Auckland, where it would take longer than that just to get it built.